New Bass Tackle for 2013 from VMC Hooks
At the annual ICAST trade show to be held in Orlando, Florida in July 2012, vendors in the sportfishing tackle industry unveil all the new tackle they're planning for 2013.
For 2013, VMC has combined its 200 years of hook making experience with decades of on-the-water tournament experience by Mike "Ike" Iaconelli. Ike and VMC have taken many tricks and tweaks that tournament pros use to put winning fish in the boat and applied them to the newest hook designs from VMC. From slight variations to revolutionary ideas, any angler can now benefit from these masterpieces of engineering and experience, says the company.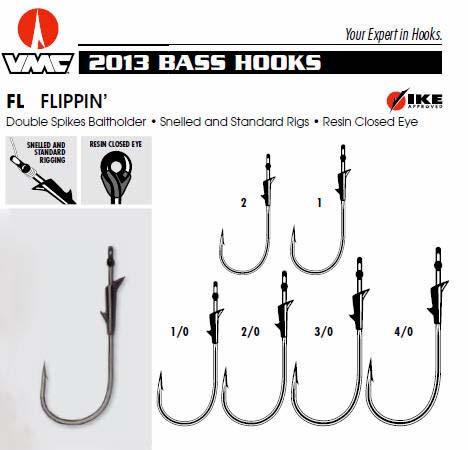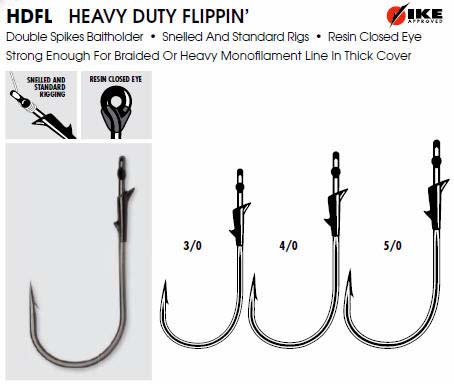 Flippin' and Heavy Duty Flippin'
To get bass out of the jungle, this straight shank hook is tough as nails. Ideal for flippin' and pitchin' in cover, the Flippin' hook features a double spiked baitholder with opposing barbs to lock on softbaits. Unlike other flippin' style hooks, the VMC Flippin' series incorporates a resin closed eye that prevents line slip, while the strategically placed keeper system exposes a 1/8-inch area between the eye and holder, allowing anglers to tie the perfect Snell and standard rigging set up. The Flippin' hook is available in sizes 2, 1, 1/0, 2/0, 3/0 and 4/0, while the Heavy Duty Flippin' hook comes in size 3/0, 4/0 and 5/0.
---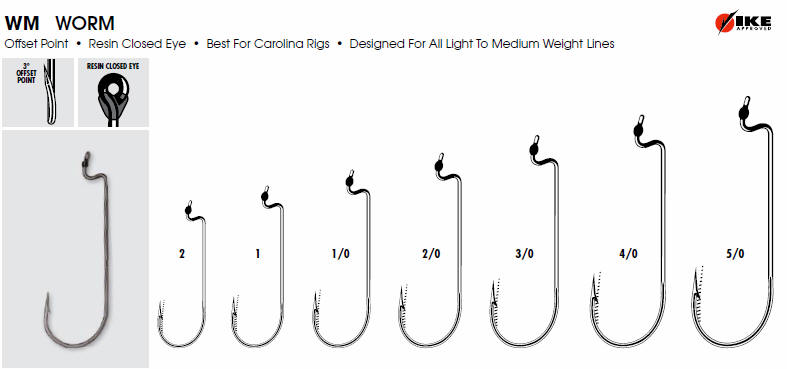 Worm and Heavy Duty Worm
An angling classic, the VMC Worm hook features a three-degree offset point that provides flawless hook sets, time after time. For added performance, the eye of the hook is resin closed, preventing line slip and fraying – offering a seamless presentation. Designed for multiple applications and line preferences, the Worm hook is available in sizes 2, 1, 1/0, 2/0, 3/0, 4/0 and 5/0. Perfect for braided lines, the Heavy Duty Worm hook comes in sizes 1/0, 2/0, 3/0, 4/0, 5/0, 6/0 and 7/0.
---


Wide Gap and Heavy Duty Wide Gap
A bass angling staple, the VMC Wide Gap hook has an offset behind the eye that arches away, then back toward the hook bend, making it ideal for larger softbaits. Pair that with the three-degree "tweak" points of each hook, and anglers have wide-gap hooks that provide hassle-free and instant hook sets each and every time. Both hooks feature VMC's exclusive resin closed eye to prevent line slip and are available in multiple sizes. The Wide Gap is available in 1/0, 2/0, 3/0, 4/0 and 5/0, while the Heavy Duty Wide Gap comes in 2/0, 3/0, 4/0, 5/0, 6/0, 7/0 and 8/0.
---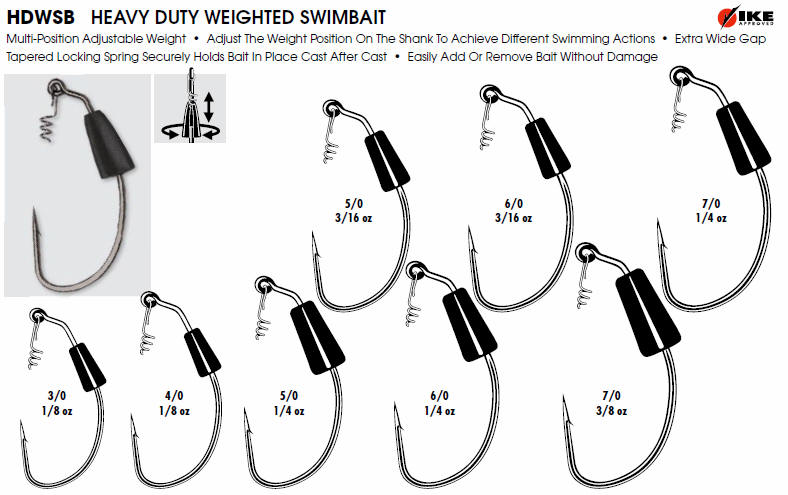 Heavy Duty Swimbait and Heavy Duty Weighted Swimbait
The swimbait craze has taken bass enthusiasts by storm and VMC's Heavy Duty Swimbait and Heavy Duty Weighted Swimbait hooks are all that and more. The Heavy Duty Swimbait comes in sizes 3/0 to 7/0, and features a tapered locking spring to firmly hold softbaits to the nose of the hook. The extra big hook is ideal for hollow belly, creature and frog baits. The Heavy Duty Weighted Swimbait comes in sizes 3/0 to 7/0, and features a multi-position, adjustable weight system. Anglers simply spin the mounted weight for the desired balance and swim position. VMC: the swimbait assassin.
---

---


SpinShot Wide Gap
VMC revolutionized the drop-shot method with the introduction of the SpinShot. Now, VMC introduces another game-changer with the new SpinShot Wide Gap, the perfect hardware for power-shotting big creature softbaits. Completely eliminating line twist, VMC incorporated a light, but super-resistant, hi-carbon steel black nickel spinning system into its premium SpinShot Wide Gap hook. The hook features a nimble swiveling wire structure that guarantees 100 percent free rotation of the hook with any size lure attached, now in a wide gap design ideal for bigger baits. Available in sizes 1/0, 2/0 and 3/0, VMC once again gives anglers an innovative edge with the SpinShot Wide Gap.
---


Wacky and Wacky Weedless
VMC's Wacky hook features an extra-wide gap for ultimate presentation and unlike other wacky hooks, flaunts a unique, turned down, resin closed eye. The epoxied eye benefits anglers by guaranteeing that even the thinnest, lightest braided line will not slip through the eye and the smooth, non-abrasive texture ensures that the thinnest of lines won't fray. The Wacky hook is available in seven sizes ranging from 4 to 4/0. The Wacky Weedless sports a finesse hook with a wider weedless guard that lays into the hook, allowing the bait and hook to seamlessly swim through vegetation. Available in seven sizes from 4 to 4/0, the Wacky Weedless puts a new twist on a scoring technique.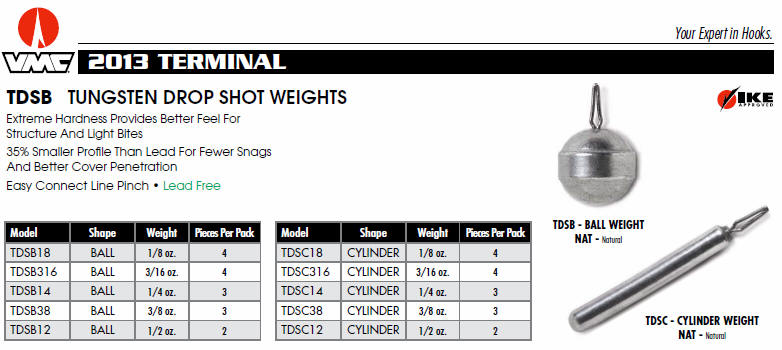 ---
Wacky Weedless Jig
Developed in partnership with tournament champions Mike Iaconelli, Ott DeFoe and Davy Hite, the Wacky Weedless Jig features VMC's unique epoxy resin closed eye at its base, guaranteeing the thinnest, lightest braided line will not slip through it. The stainless steel weedguard allows anglers to present their favorite wacky worm in the most natural way and hold it in place when running the heaviest of cover. Featuring a Tweak Point, the Wacky Weedless hook point is bent at three degrees, increasing hook rate tenfold. Available in four weights, including 1/16-ounce, 1/8-ounce, 3/16-ounce and 1/4-ounce, and two colors – Black and Green Pumpkin – the Wacky Weedless Jig will be an instant hit.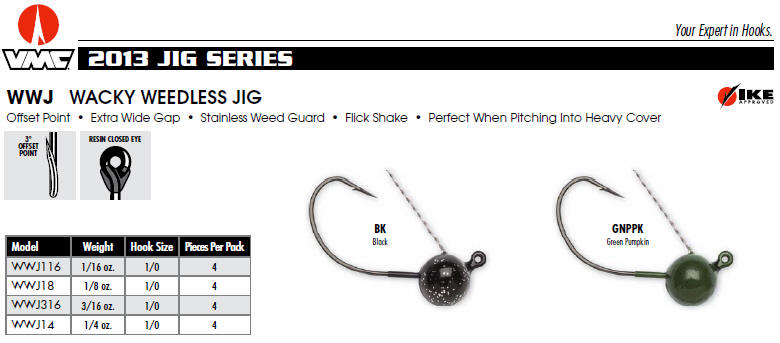 Rugby Jig
Sure to be an overnight sensation, the VMC Rugby Jig sets the stage for an entirely new category. Designed for multiple presentations, the Rugby Jig features an extra wide gap hook with an offset just below the jig head that secures any soft plastic and creates a lifelike presentation on the rest. Coupled with the VMC signature three-degree offset "tweak" hook point and a recessed eye for added bass mesmerizing worm-bait action. Available in two colors, Black and Green Pumpkin, anglers can choose from eight weights, including 1/16-ounce, 1/8-ounce, 3/16- ounce, 1/4-ounce, 5/16-ounce, 3/8-ounce, 1/2-ounce and 3/4-ounce.
---