New Bass Tackle for 2013 from Rapala
At the annual ICAST trade show to be held in Orlando, Florida in July 2012, vendors in the sportfishing tackle industry unveil all the new tackle they're planning for 2013.
For 2013, Rapala introduces the Balsa Xtreme (BX) series:
• New BX Minnow. (Shown top) A sleek minnow-shaped bait with flat sides that flaunts a strong flash on the roll as it slices and twitches through the water. Measuring 4 inches long, the BX Minnow weighs 3/8 ounce.
• Jointed BX Swimmer. (Bottom) Features a jointed body that harnesses a durable pivot system, producing a slow-sinking bait with a methodical, strike-enticing swimming action. It's 4-¾ inches long, weighing ¾ ounce.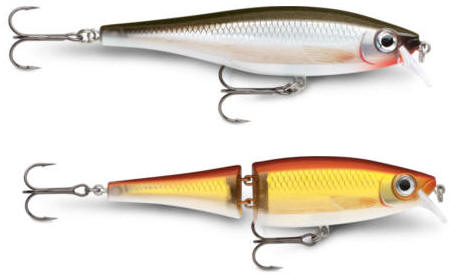 Both have a balsa wood core embodied in a durable copolymer shell for unmatched toughness, says the company.
Both baits feature internal X-Foil, along with molded 3D heads, gills and scales that meld together to form lifelike finishes unlike anything seen on balsa lures, says the company.
"The BX Series is the liveliest, yet toughest balsa-constructed bait ever produced," said Mike "Ike" Iaconelli, Rapala pro angler. "By wrapping these balsa baits in a copolymer shell, it allows anglers to tangle with the strongest jaws in both fresh and saltwater applications without comprise, all while producing incredible action and displaying eye-popping finishes."