New Bass Tackle for 2013 from Castaic
At the annual ICAST trade show to be held in Orlando, Florida in July 2012, vendors in the sportfishing tackle industry unveil all the new tackle they're planning for 2013.
For 2013, Castaic has some incredibly cool new stuff for bass fishing, including some innovative and patent-pending umbrella rigs.
"We think our new rigs will change the game and make the castable bass umbrella rig much more than a niche bait for the fall," says Rick Quade, owner of Castaic and Reaction Strike brands.
Frog Brigade
This game-changing fluorocarbon 3-arm rig allows an angler to fish 3 frogs at once on one rod. Simply too cool!
Its arms are fluorocarbon line. The head is foam and floats. "When you put three Reaction Strike Revolution Frogs on this rig, it is really hard to describe what happens. Picture three frogs walking in unison. It is mind-blowing," says Rick Quade of Castaic.
InvisiRig
"Our metal wire-arm Charlie's 'Walker Rig' started it all for Castaic – a real innovation on umbrella rigs that is very cool. It's been on the market for a short time and we have sold tens of thousands already. We get emails daily from people telling us that the design allows for things no other umbrella rig can accomplish," says Rick Quade.
Now Castaic feels they have eclipsed all with their new, invisible fluorocarbon umbrella rig that is the lightest rig on the market and the only one that is made of fluorocarbon. This patent-pending rig opens up so many possibilities with umbrella rigs that are impossible with any other rig. Comes in standard 3-arm fluorocarbon and weedless 3-arm fluorocarbon configurations. The weedless design incorporates two additional patent-pending walking legs that allow an angler to crawl this rig over cover and structure such as rocks, stumps, and ledges.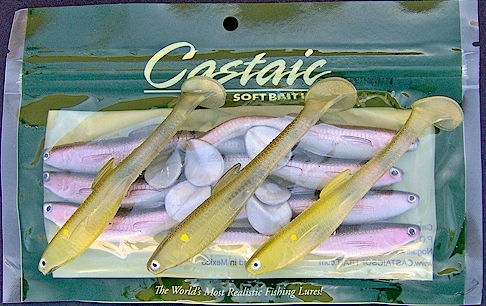 To be used with their umbrella rigs, Castaic recommends their unbeatable Jerky J Swim swimbaits on Reaction Strike's killer screw-lock Flats Lok jigheads, so you have a complete package that is second to none, says the company.
There's a lot more new coming from Castiac for 2013 including new laminated two-tone Jerky J Swims and their new 7″ Jerky J Eel.