Hot new Bass Tackle for 2013 from: 3D Picture, ABT, Airrus, Bullet Weights, e21 Carrot Stix, Damiki, Eumer, Ever Green, Gambler, Gene Larew, Hart, Hobie, Kahara, Koppers, Land-Um, Livingston, Lucky Craft, Lunker Hunter, MegaStrike, Mustad, Optimum, River2Sea, Strike King, Strike Pro, TH Marine, Tightlines UV
I hope you have enjoyed reading my ICAST reports as much as I have enjoyed writing them for you.
3D Picture Store
*WINNER OF ICAST BEST GIFTWARE AWARD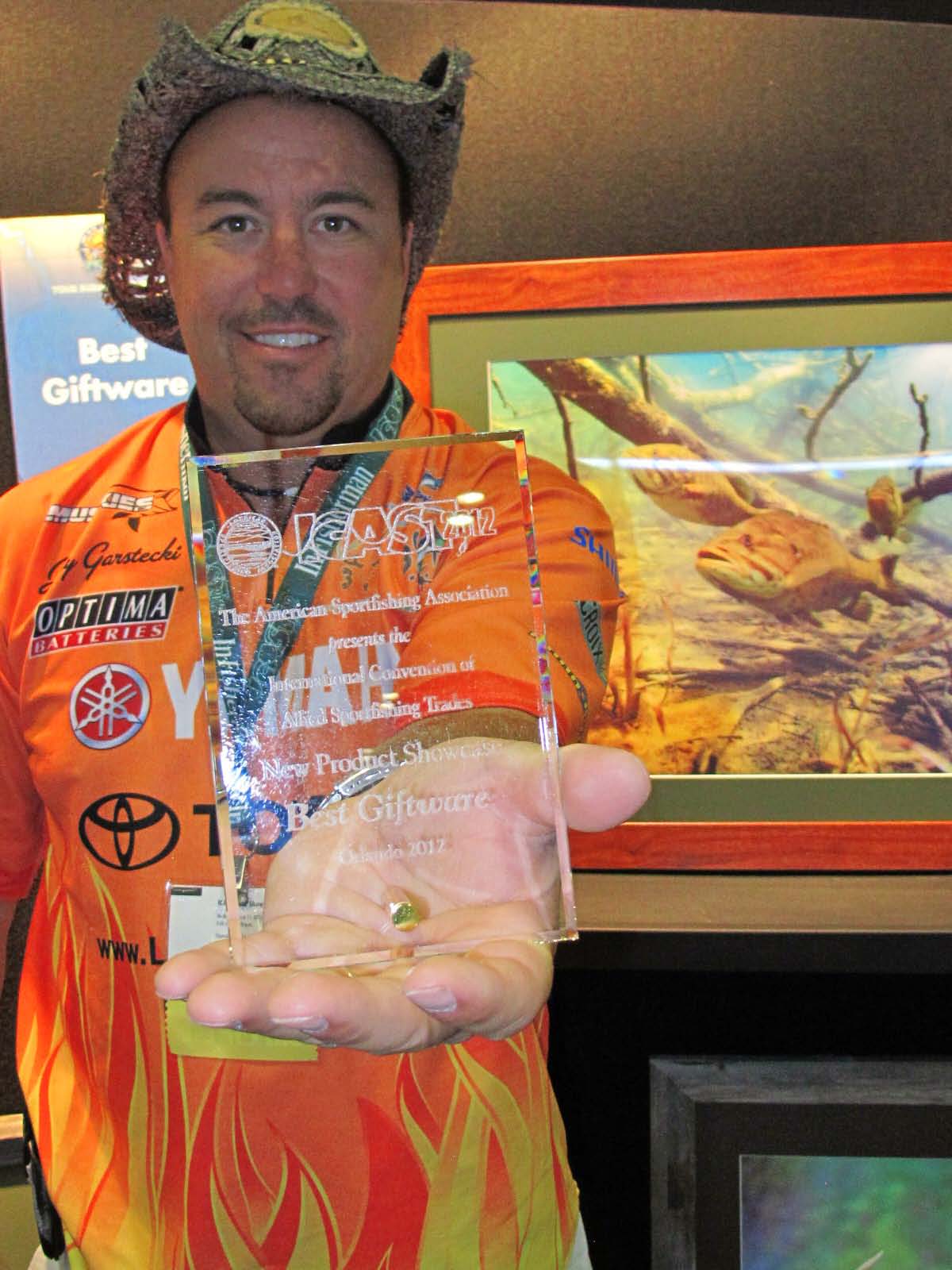 ICAST award winner Jason (Jay) Garstecki proudly says that, "The picture that actually won is called Exploring Smallmouth. The size is 17-3/4 x 23″ and the retail price, unframed is $59.95. The framed and matted version is $149.95. It is completely unique and something different. Overall, we have 36 freshwater and 36 saltwater titles."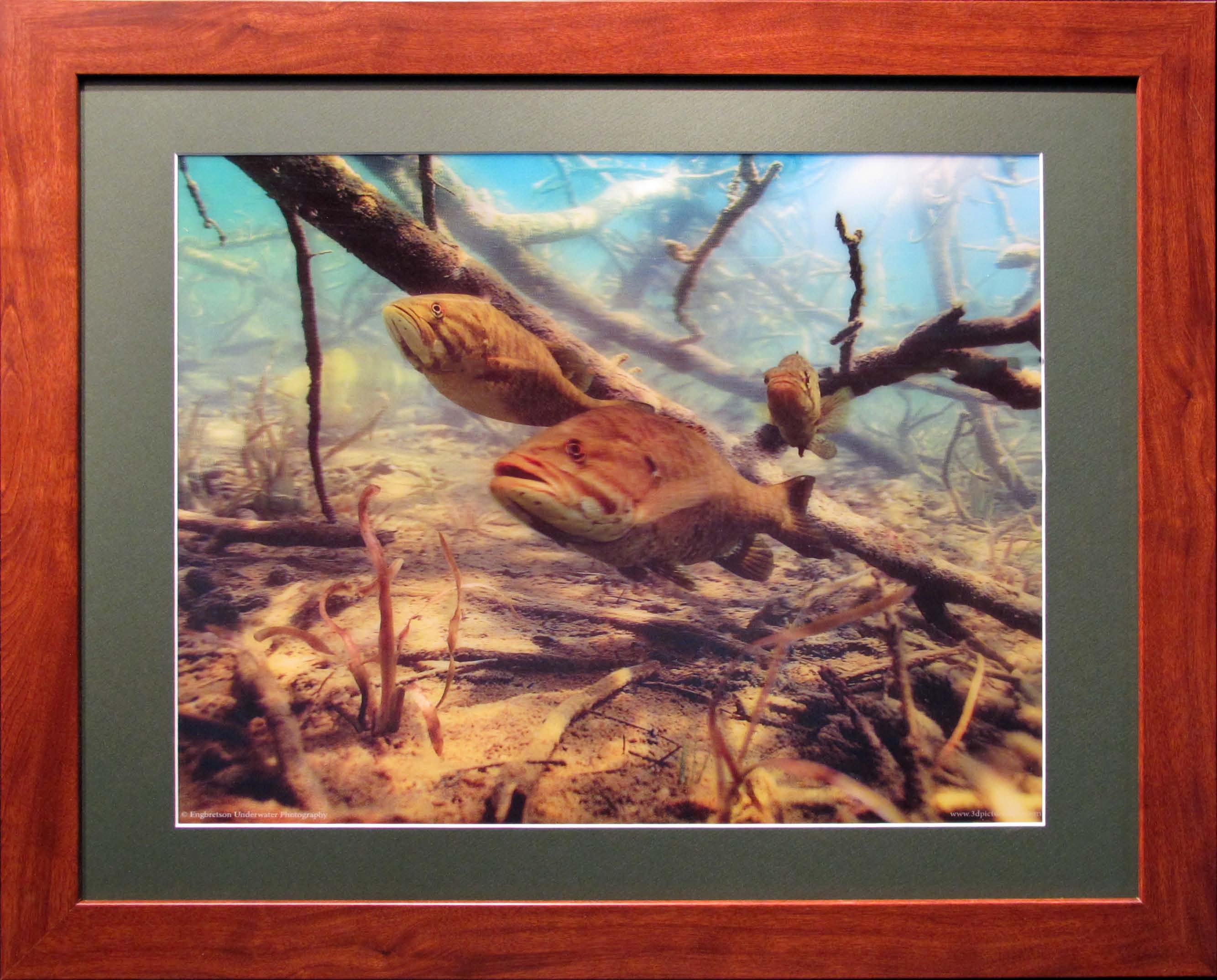 ABT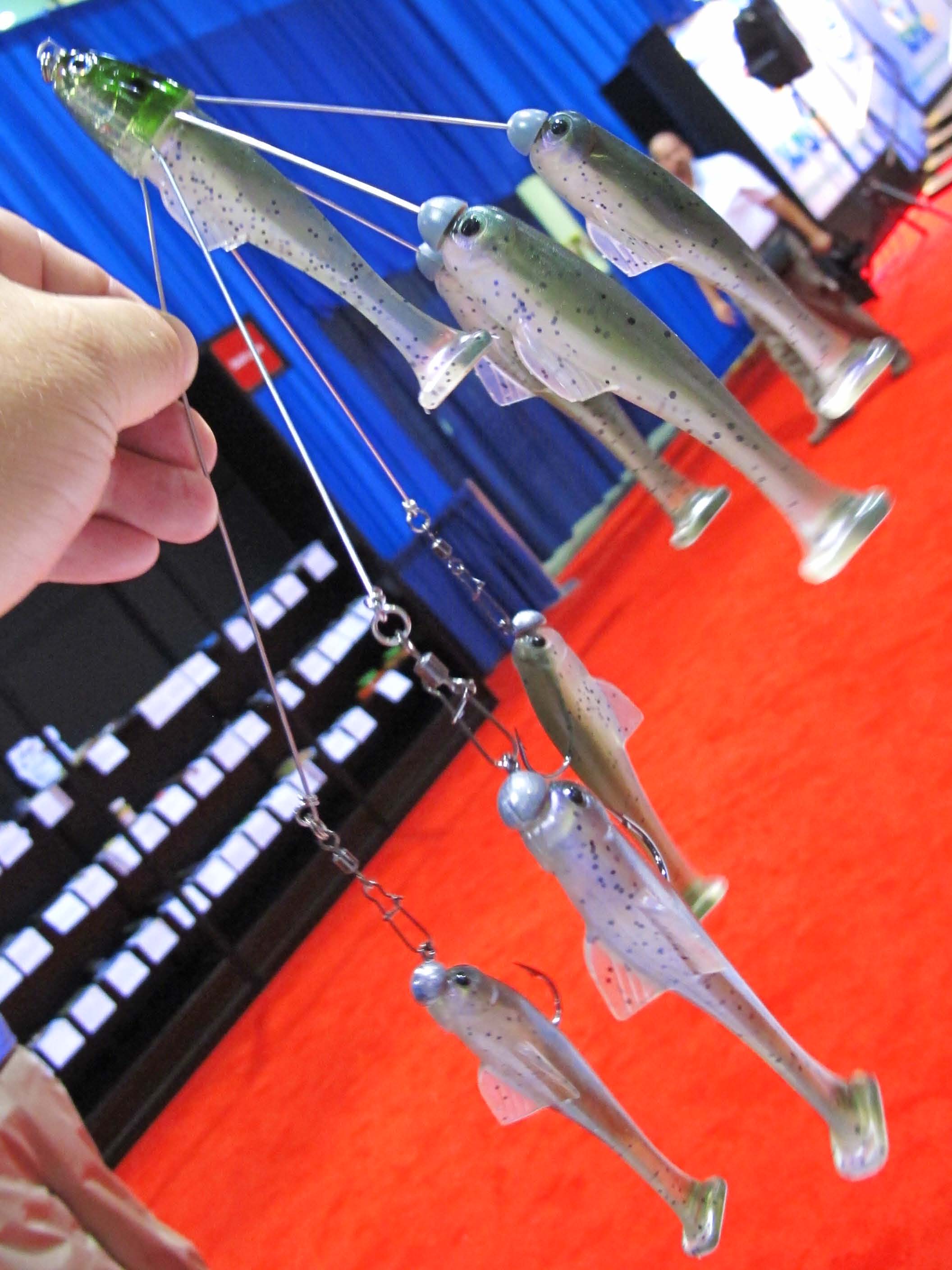 This ABT umbrella rig has the most swimbait bodies – seven – I have seen on a single multi-rig so far.
More new ABT products being added here soon! Check back in a few days for the updates.
New! Airrus Stargate Casting and Spinning Rod Series
More new Airrus products being added here soon! Check back in a few days for the updates.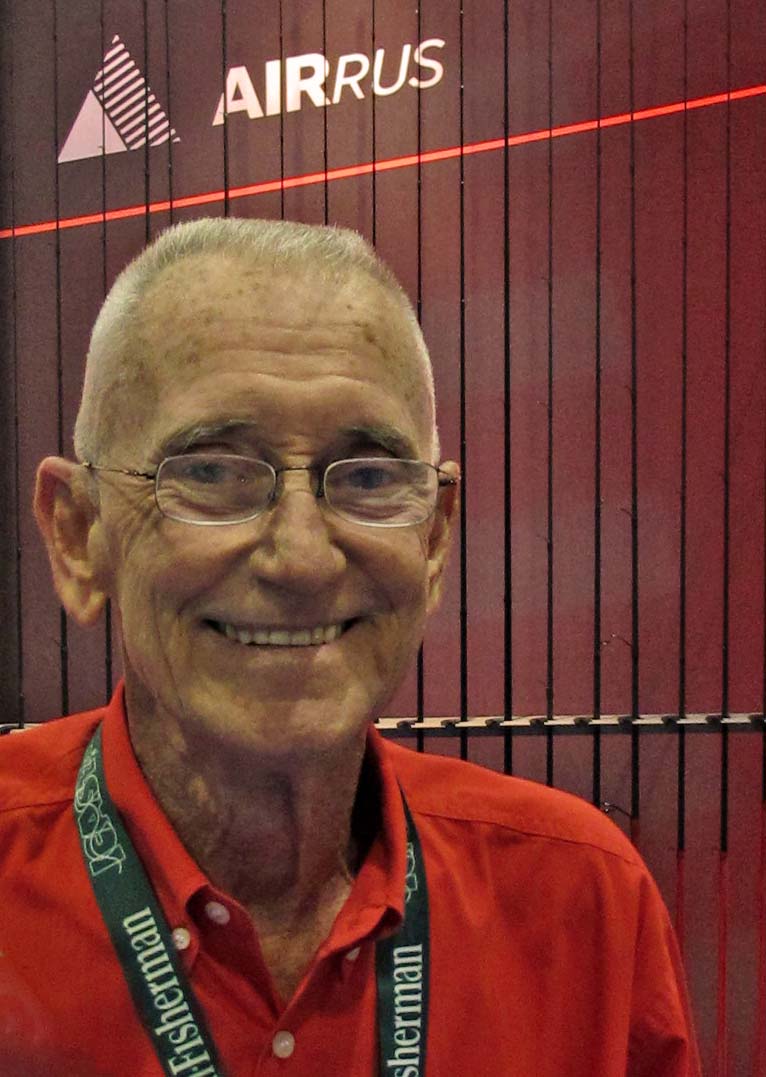 Airrus rod engineer, Ken Whiting is a rod industry legend.
New! Bullet Weights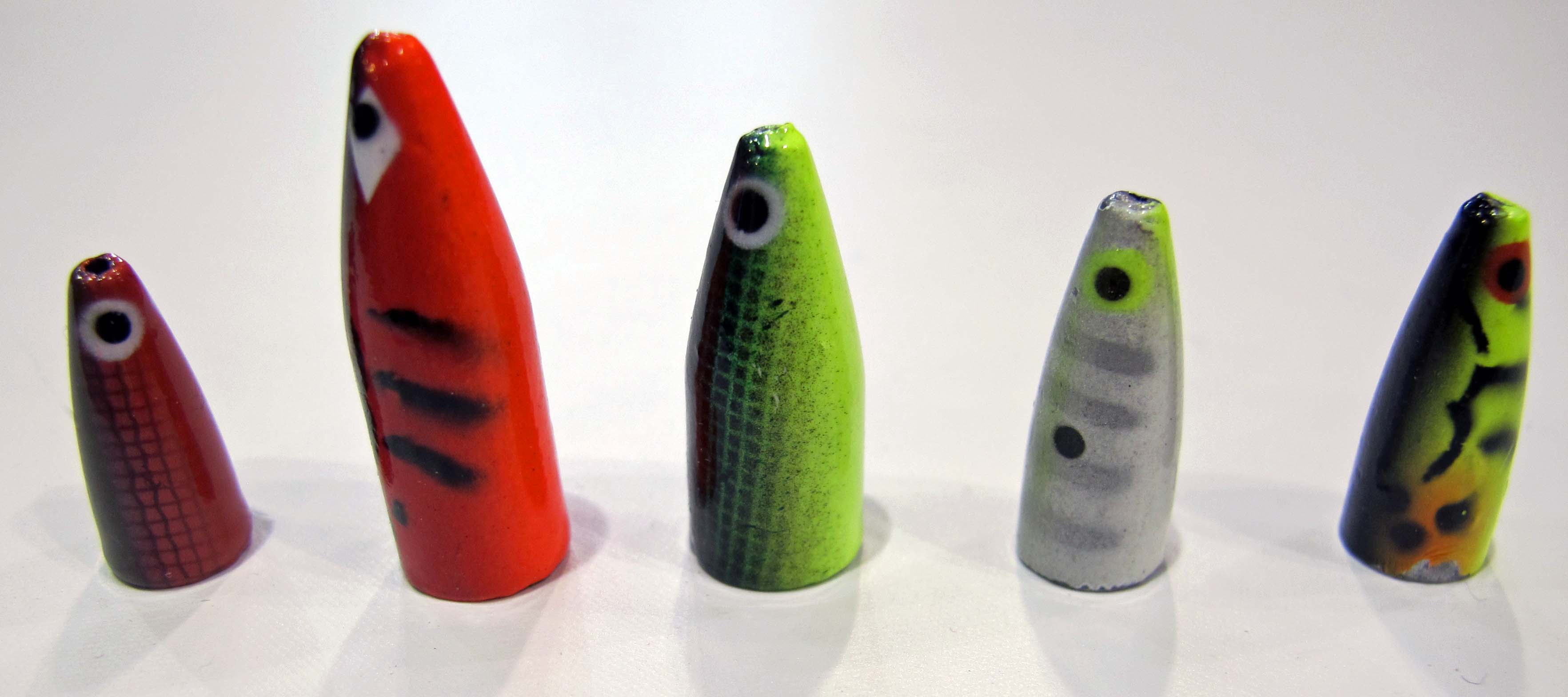 New! Damiki Axe Blade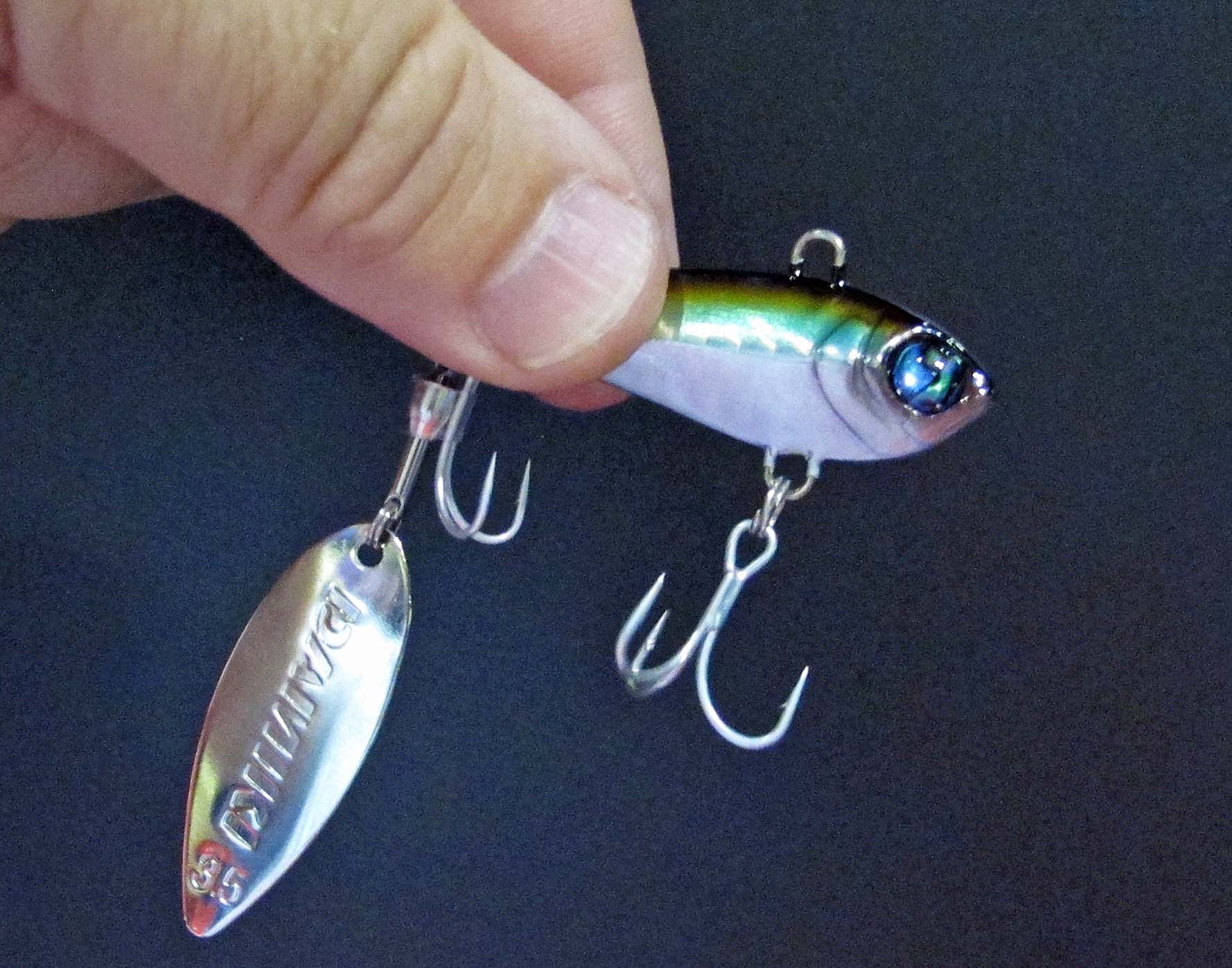 The 3/4 oz Axe Blade attracts attention spinning down through the depths, and has a double hook attached in front of the tail blade to surely nab those tail biters!
New! e21 Carrot Stix Wild Green Cranking and Spinning Rod Series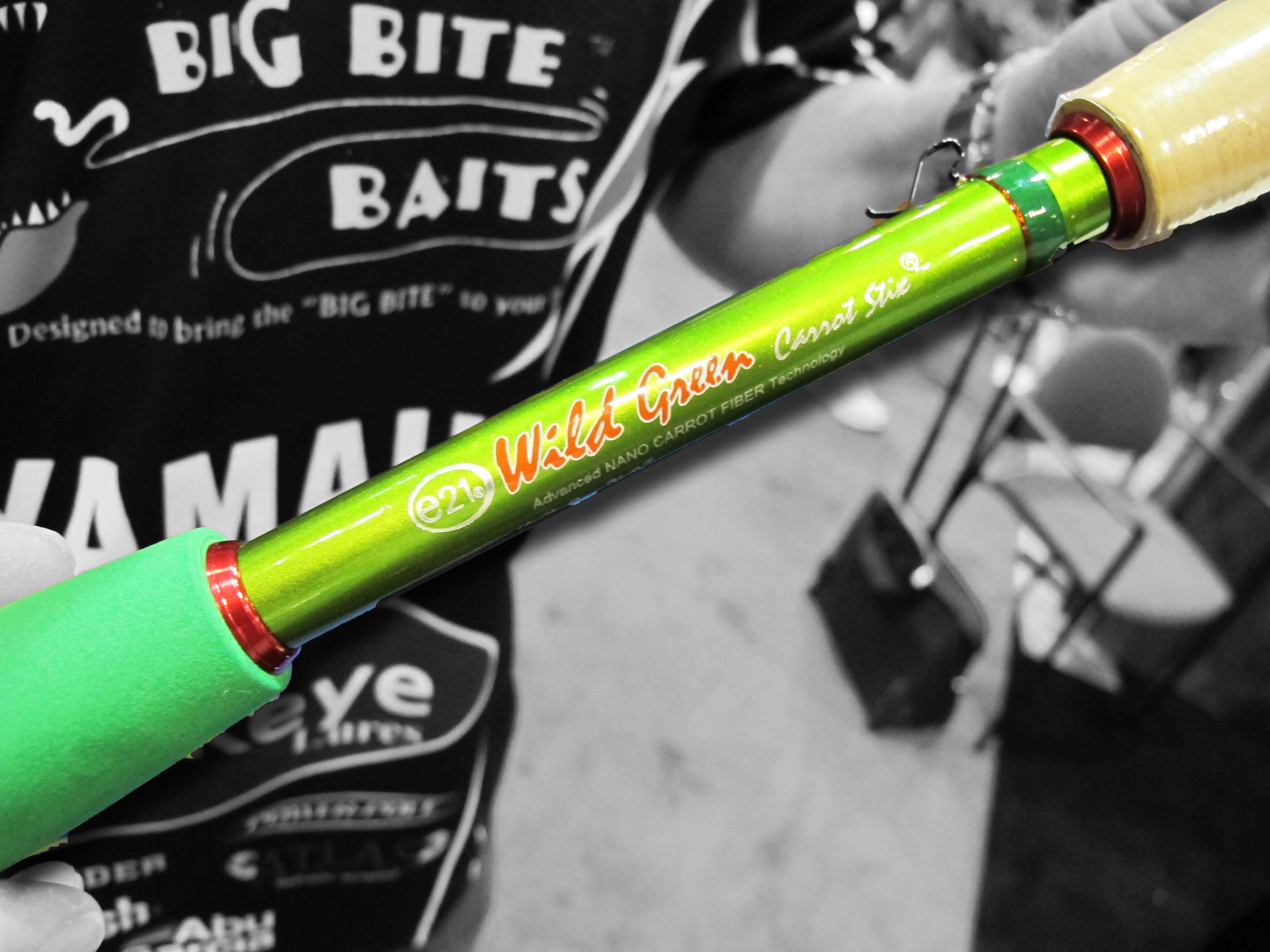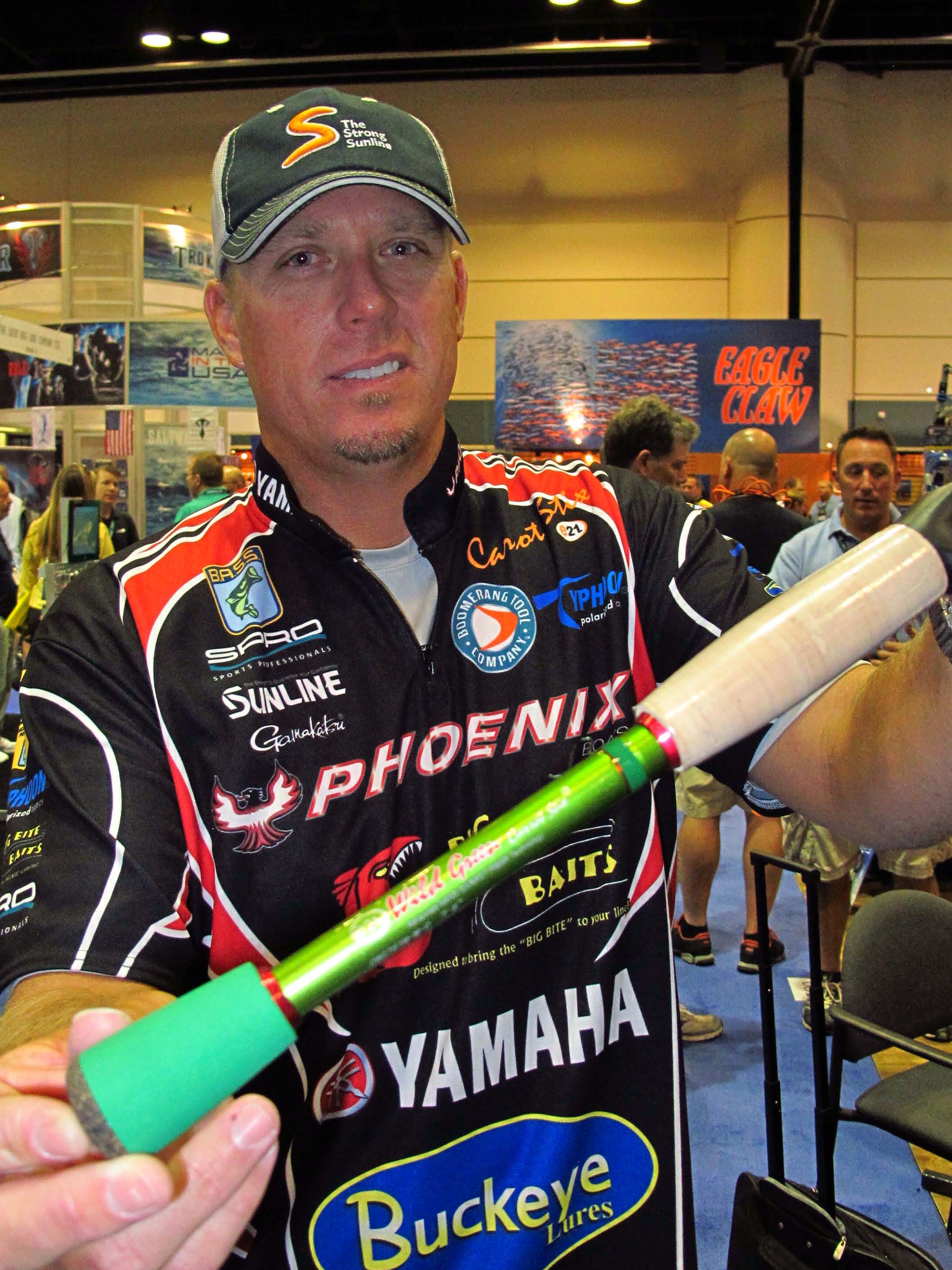 Carrot Stix is now offering the new Wild Green series of cranking (baitcasting) rods in 3 models and Wild Green spinning rods (3 models).
New! Eumer SpinTube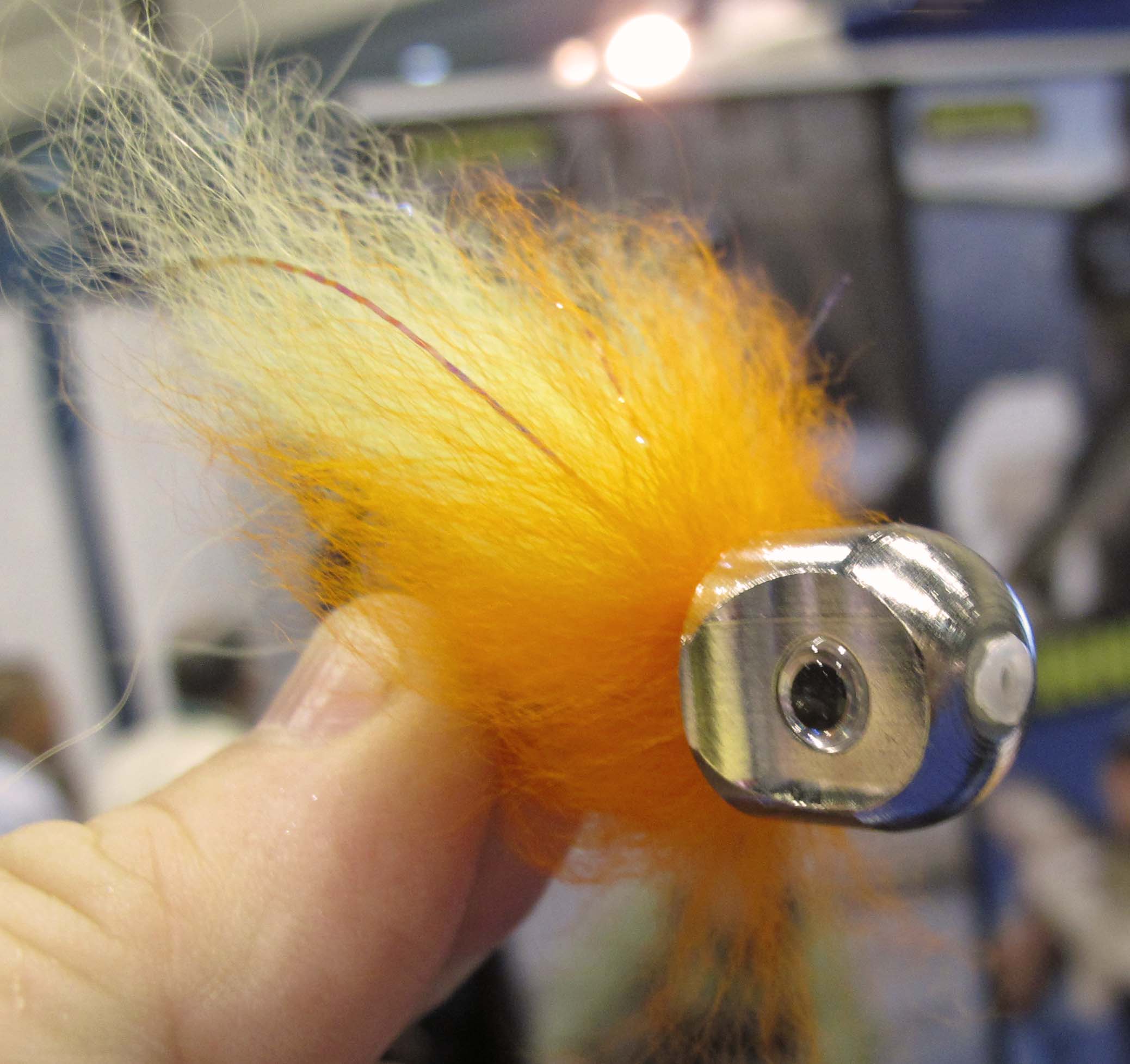 More news on Eumer SpinTube being added here soon! Check back in a few days for the updates.
New! Ever Green International Soft Baits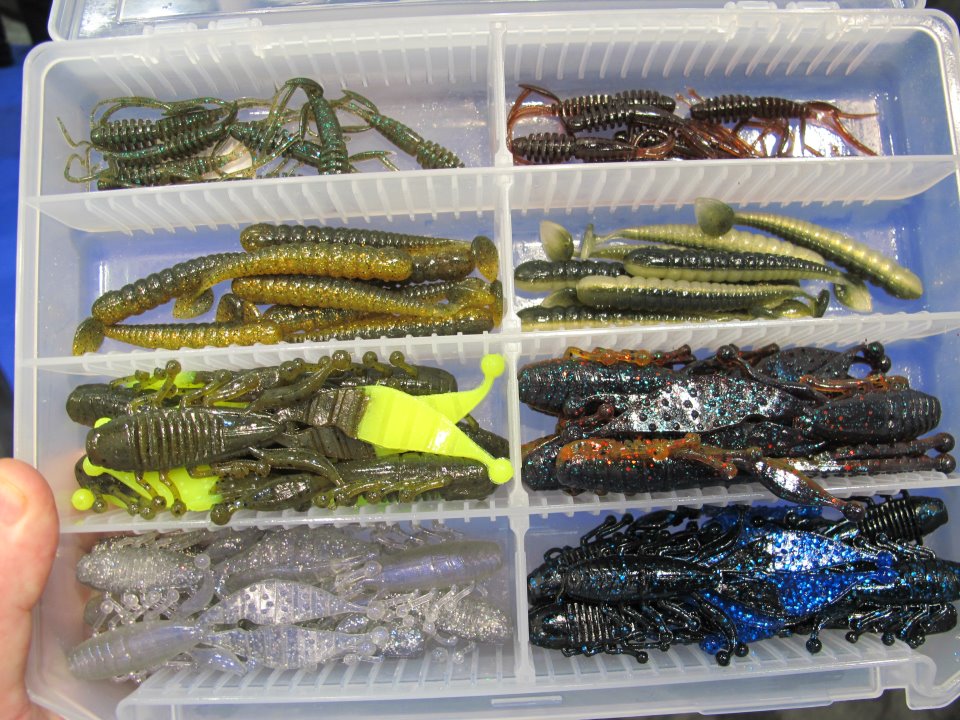 Several different shapes and sizes of soft baits are new Top row: Shrimp, often dropshot rigged in Japan. Second row: Vivid Shad grub. Third row: Multi-appendage creature style bait is very vibrant and flexible. Often Texas-rigged or used as jig trailer in Japan. Bottom row: Smaller size of same new creature bait.
New! Ever Green International Bow Worm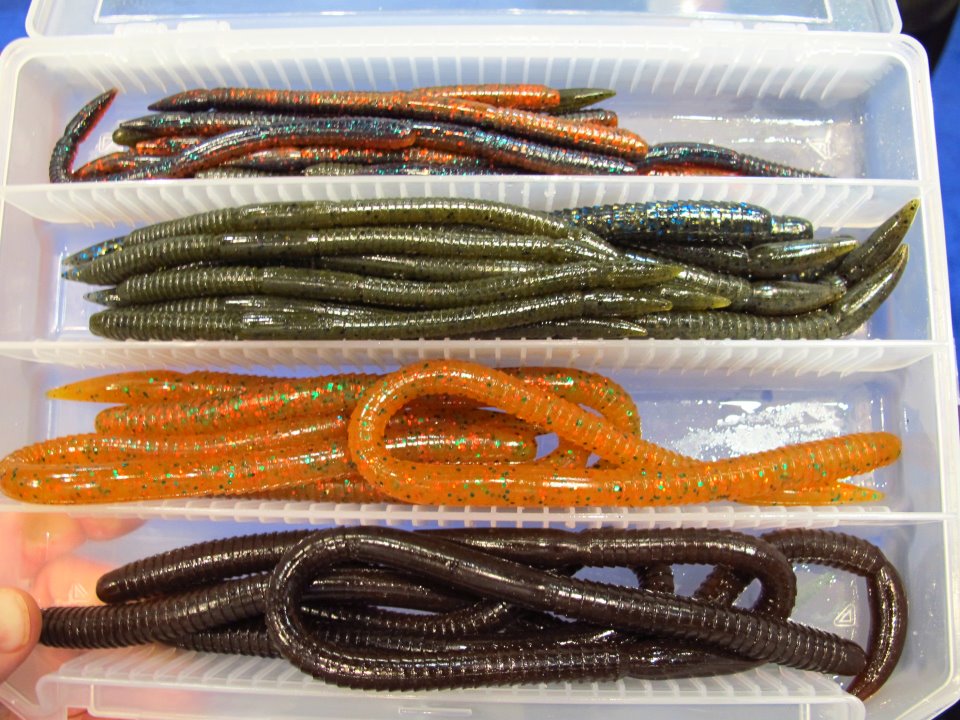 Several sizes from small to huge of new Bow Worm . Every size is most often used in Japan on the "Neko Rig" with a short shank hook in the mid-worm, a nail weight in the head so it is "inversed" (head down) and action emanates from hook in middle while tail is free-swinging.
New! Gambler Doc's Evolution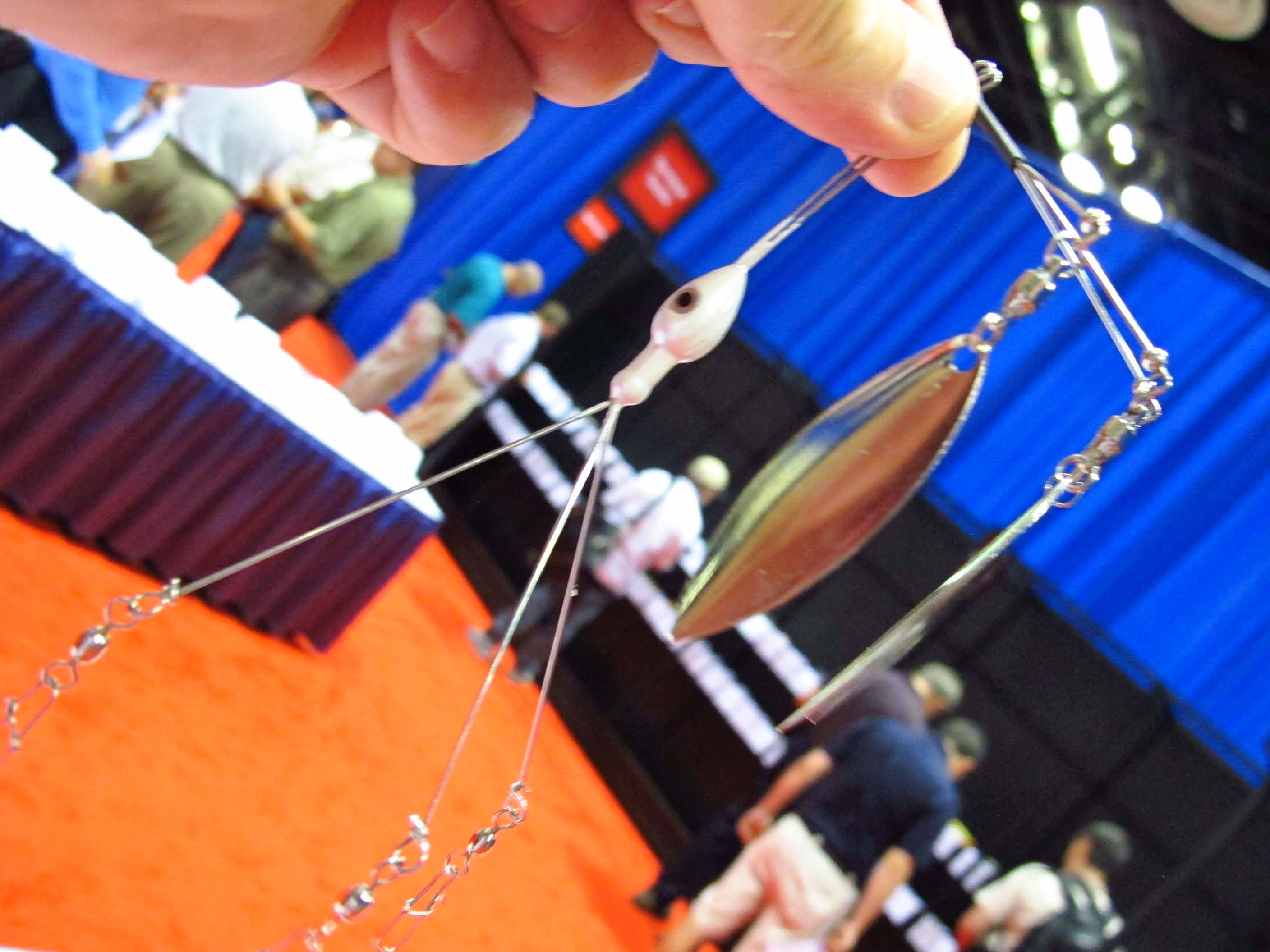 The new product showcase at ICAST was clogged with castable umbrella rigs, multi-rigs, multi-bladed spinnerbait rigs of incredible imaginative shapes and forms. This one is a hybrid triple blade arm spinnerbait crossed with a triple mini-umbrella rig called Doc's Evolution. It combines the flash of a spinnerbait with the multi-rigging capability of an umbrella rig. It can be fished shallow like a spinnerbait in grass, around docks or rigged with heavier jigheads on the arms to go deeper. Available in a three bait version and a one bait version.
New! Gene Larew Rattlin' Crawler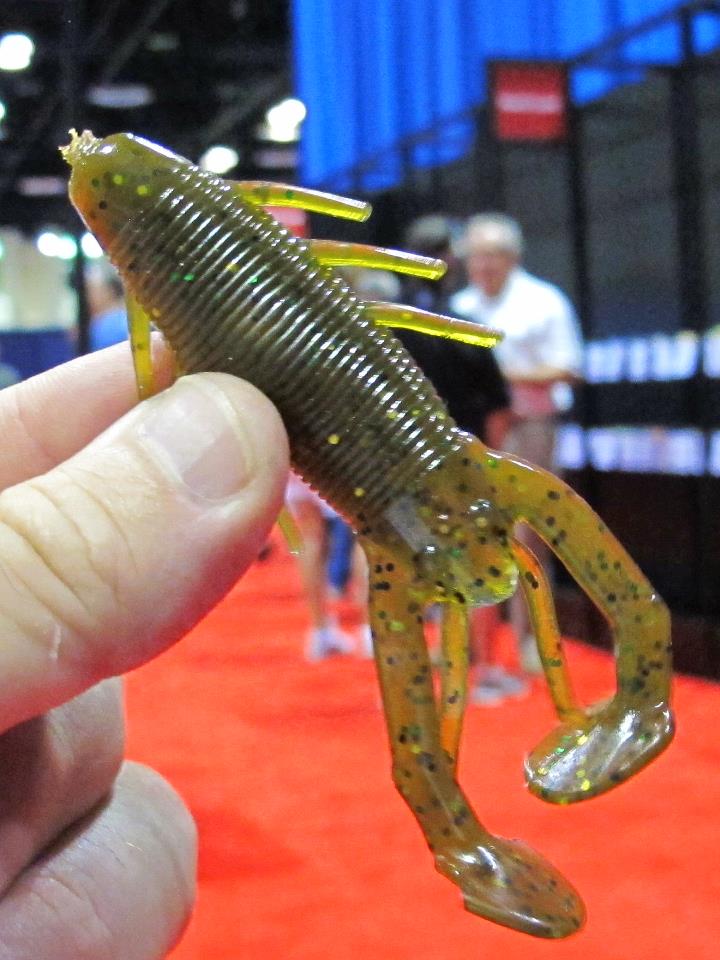 With its oversized kick legs and a noisy, large 9mm glass rattle (made exclusively for Larew) already inserted into every one, the Rattlin' Crawler delivers crazy rattling and leg-thumpin' action. The belly has "noise ridges" to add to its vibration and energize the rattle any time it comes into contact with limbs, rocks and other cover or bottom. Ideal to rig on Larew's Biffle HardHead jighead plus its flat body makes it a great pitching bait and also, jig trailer.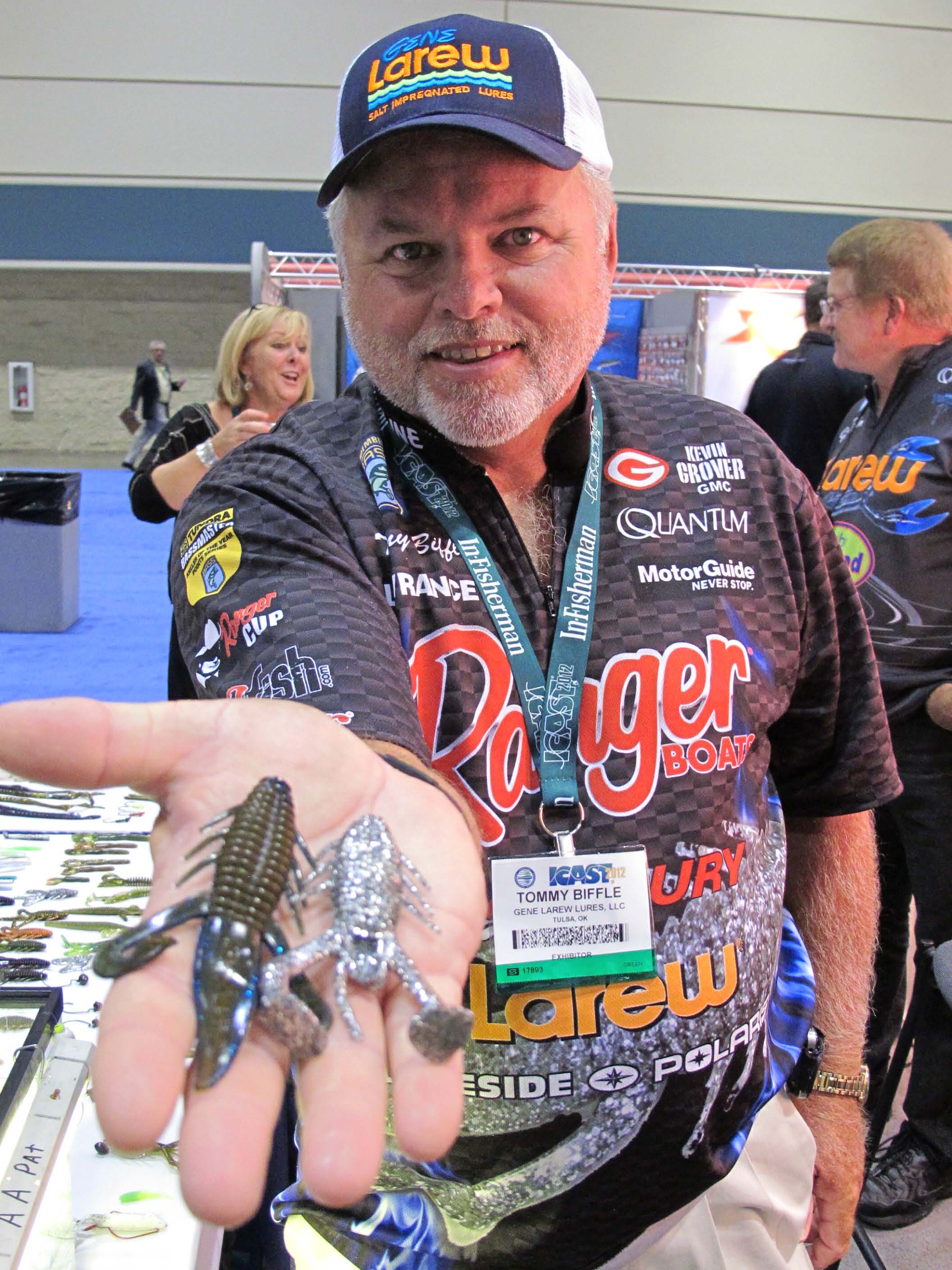 Tommy Biffle shows the new Rattlin' Crawler (right) compared to the popular Biffle Bug (left). Both have comparable body trunks but the legs and tail of the original Biffle Bug produce a tight, subtle action on the ICAST tank test demonstration whereas the Rattlin' Crawler with its oversized kick legs produced a very wide, thumping action and has a noisy, large 9mm glass rattle (made exclusively for Larew) already inserted into every one. The belly has "noise ridges" to add to its vibration and energize the rattle any time it comes into contact with limbs, rocks and other cover or bottom.
New! Hart Tackle Hart Throb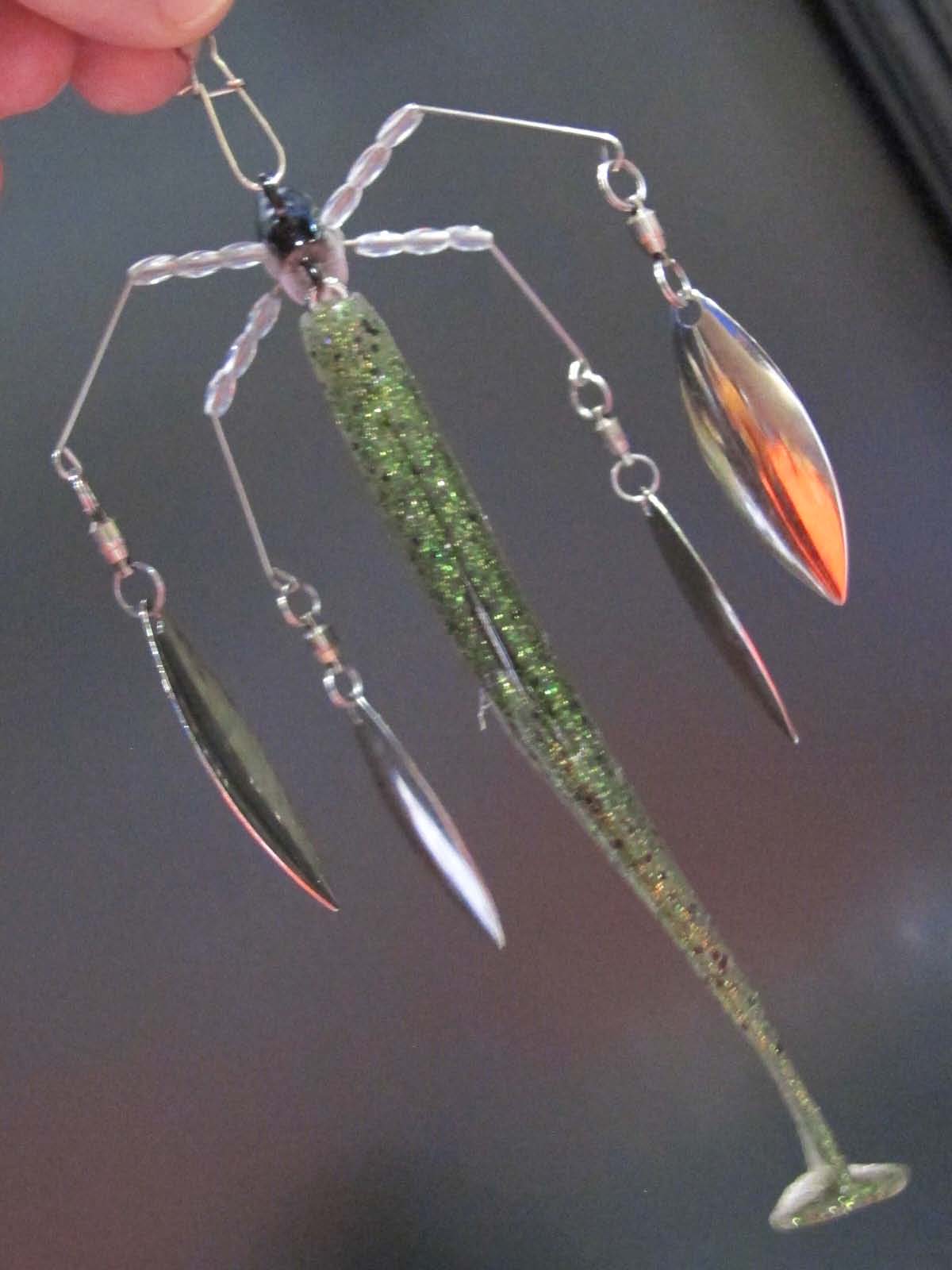 A four blade arm jig head and swimbait which mimics a school of baitfish and is easy to cast around docks and through timber says the company.
More new Hart products being added here soon! Check back in a few days for the updates.
HOBIE
*WINNER OF ICAST BEST OF SHOW AWARD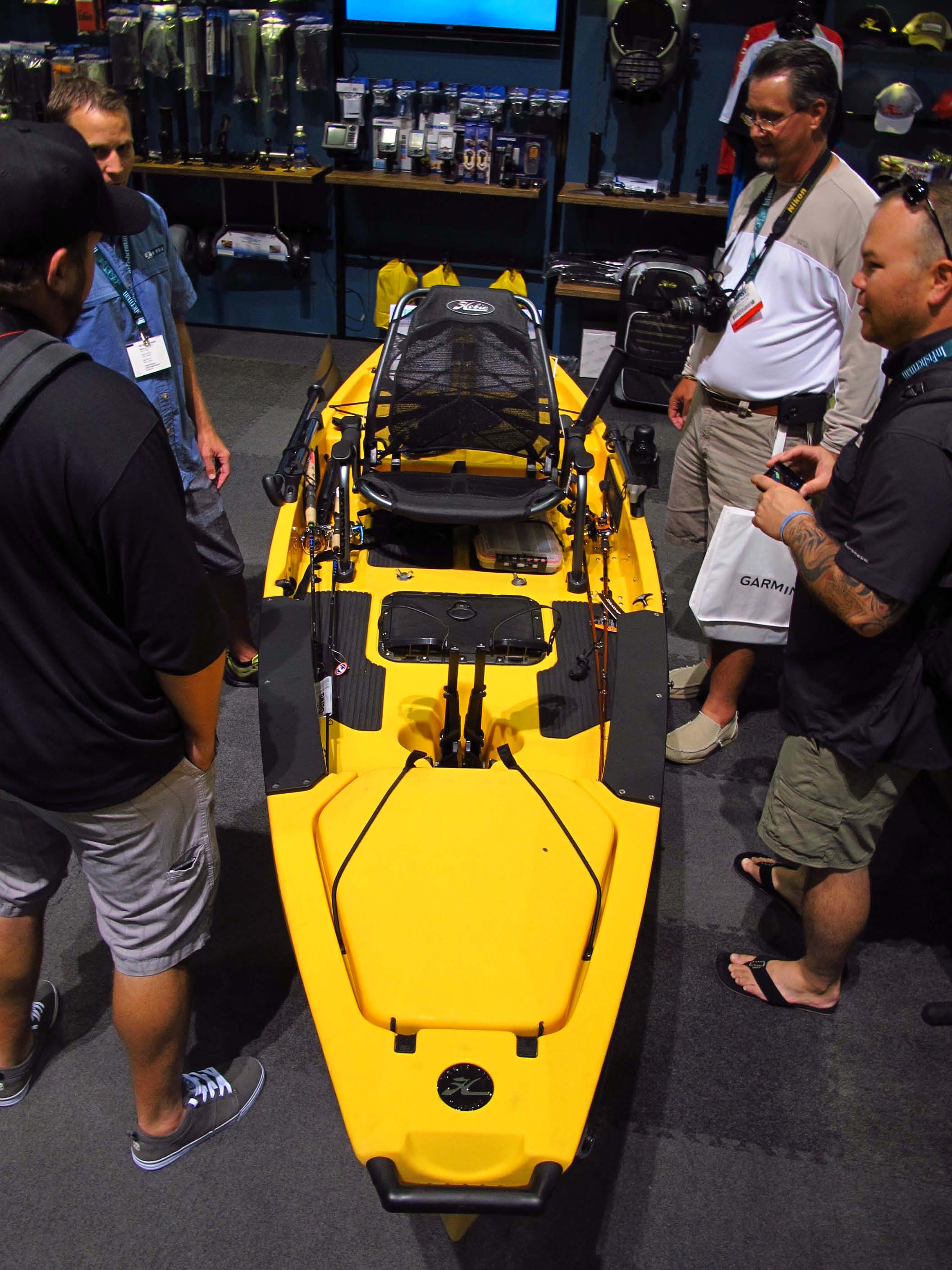 Hobie Mirage Kayak WINS ICAST BEST OF SHOW across all new product categories!
New! Kahara Split Ring Pliers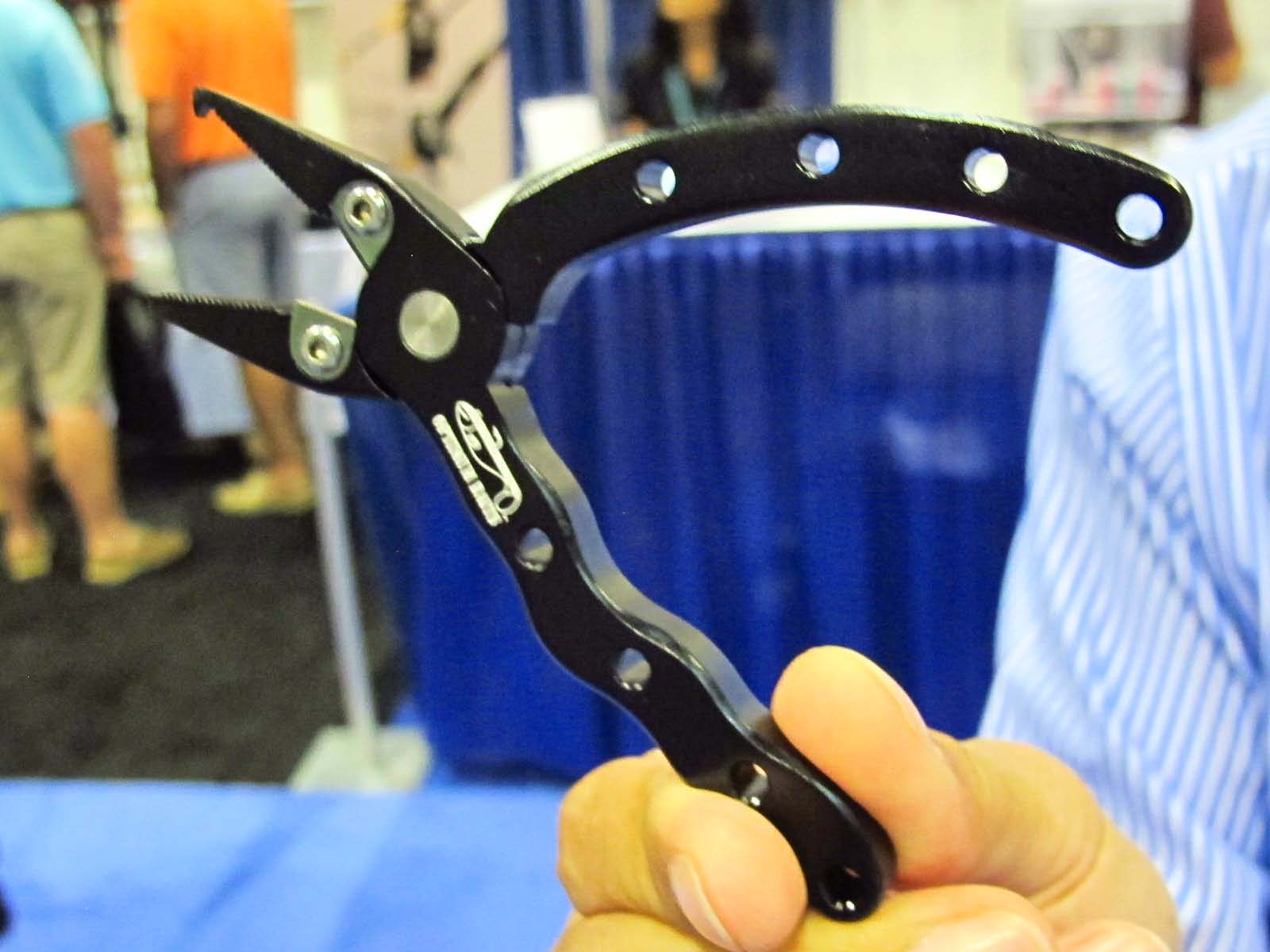 Can't say I've ever seen a better-constructed or nicer-looking pair of split ring pliers than these!
Kahara Bass Pliers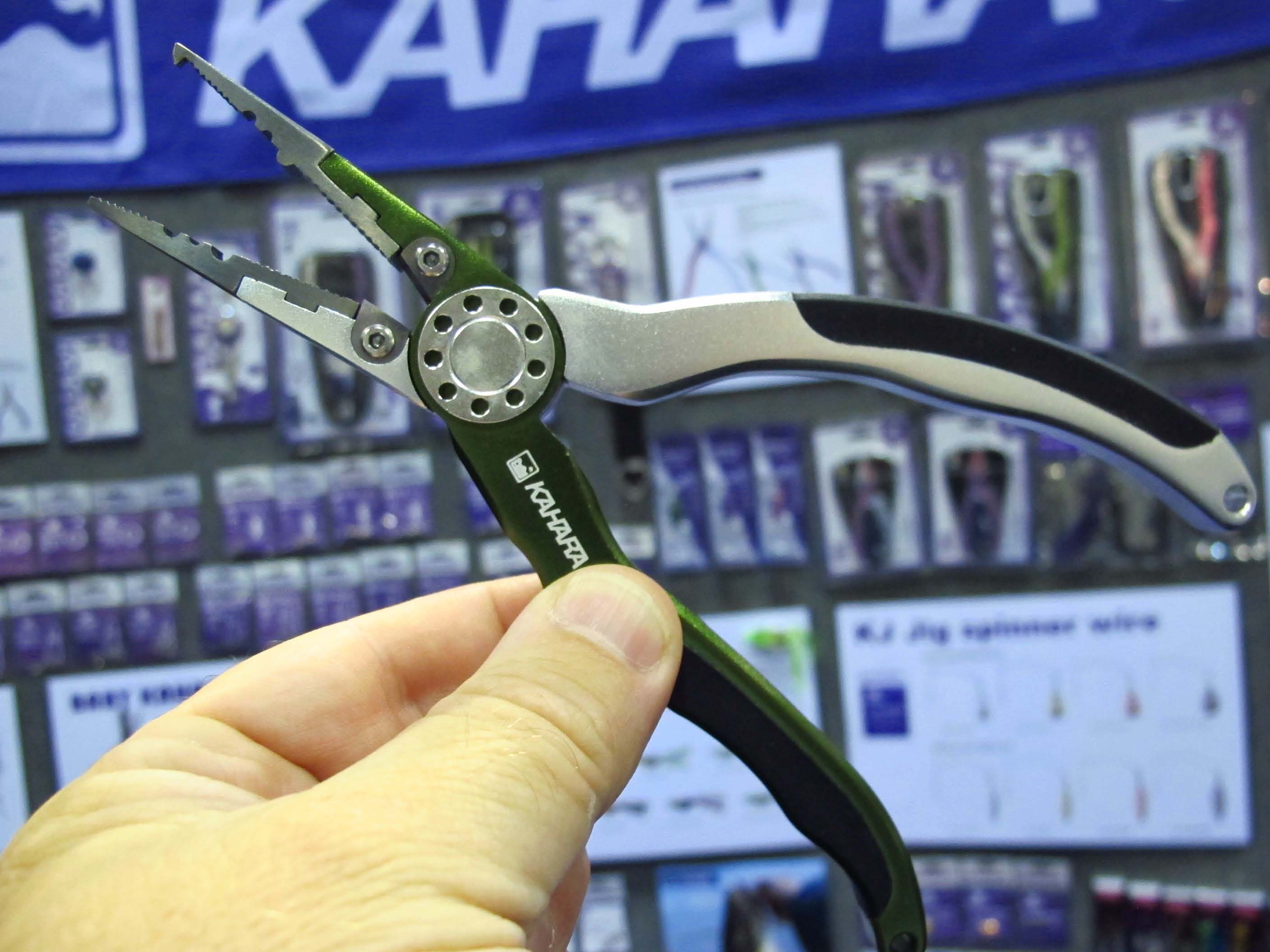 These are not new this year – maybe been out 2-3 years, but a lot of anglers don't know about them. The split ring tang (tooth) on the end is small enough to open the smallest split rings – yet the pliers are strong enough to do everything else required throughout a day of fishing – absolutely the highest quality bass pliers on the market.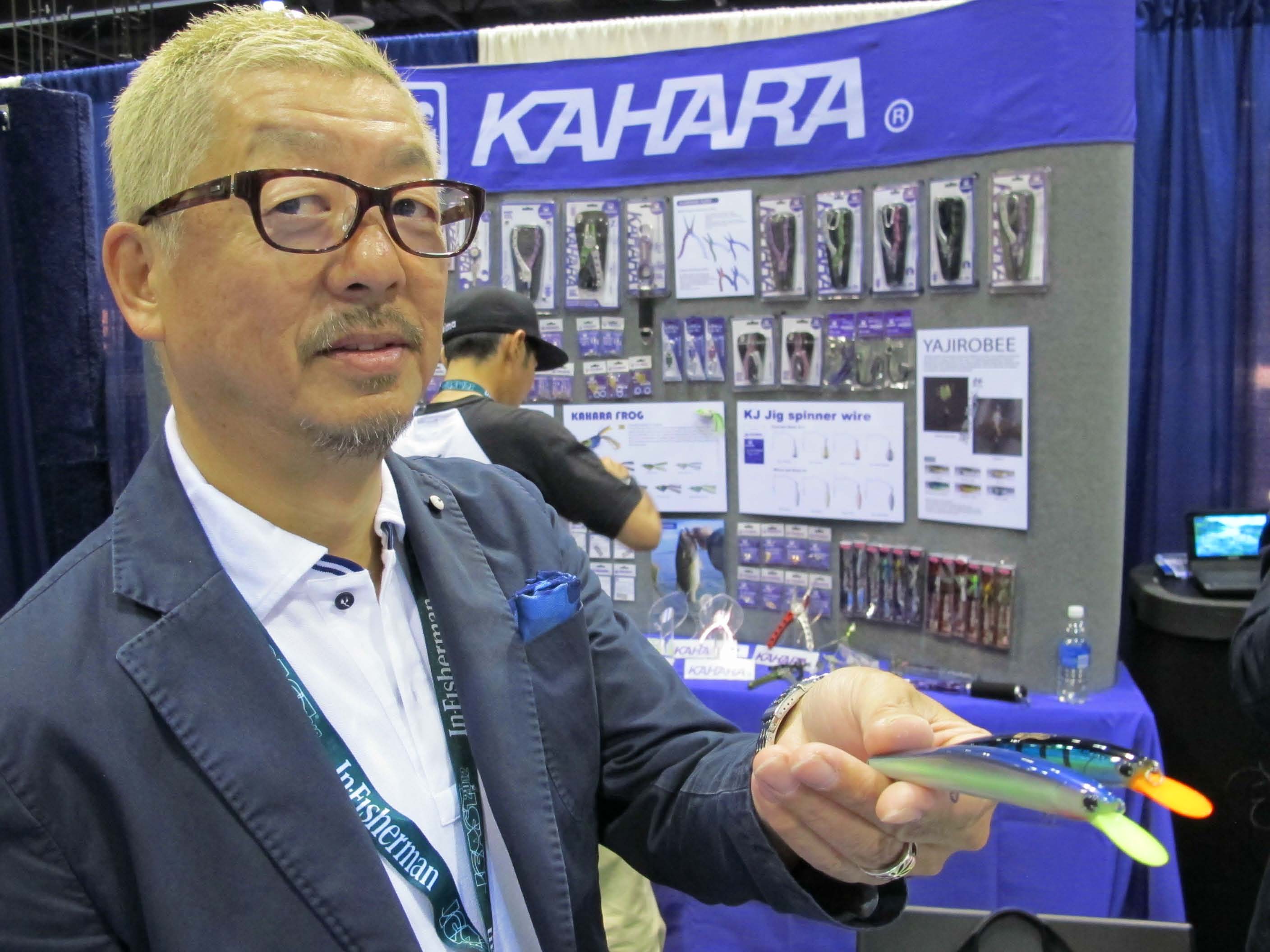 Igarashi, founder and president of Ima Lures visiting Kahara's booth. Those are the new Ima Floating Flit for 2013. The diving lips are fluorescent colored to incite bass to strike.
New! Koppers LiveTarget Frog Popper
*WINNER OF ICAST BEST HARD LURE AWARD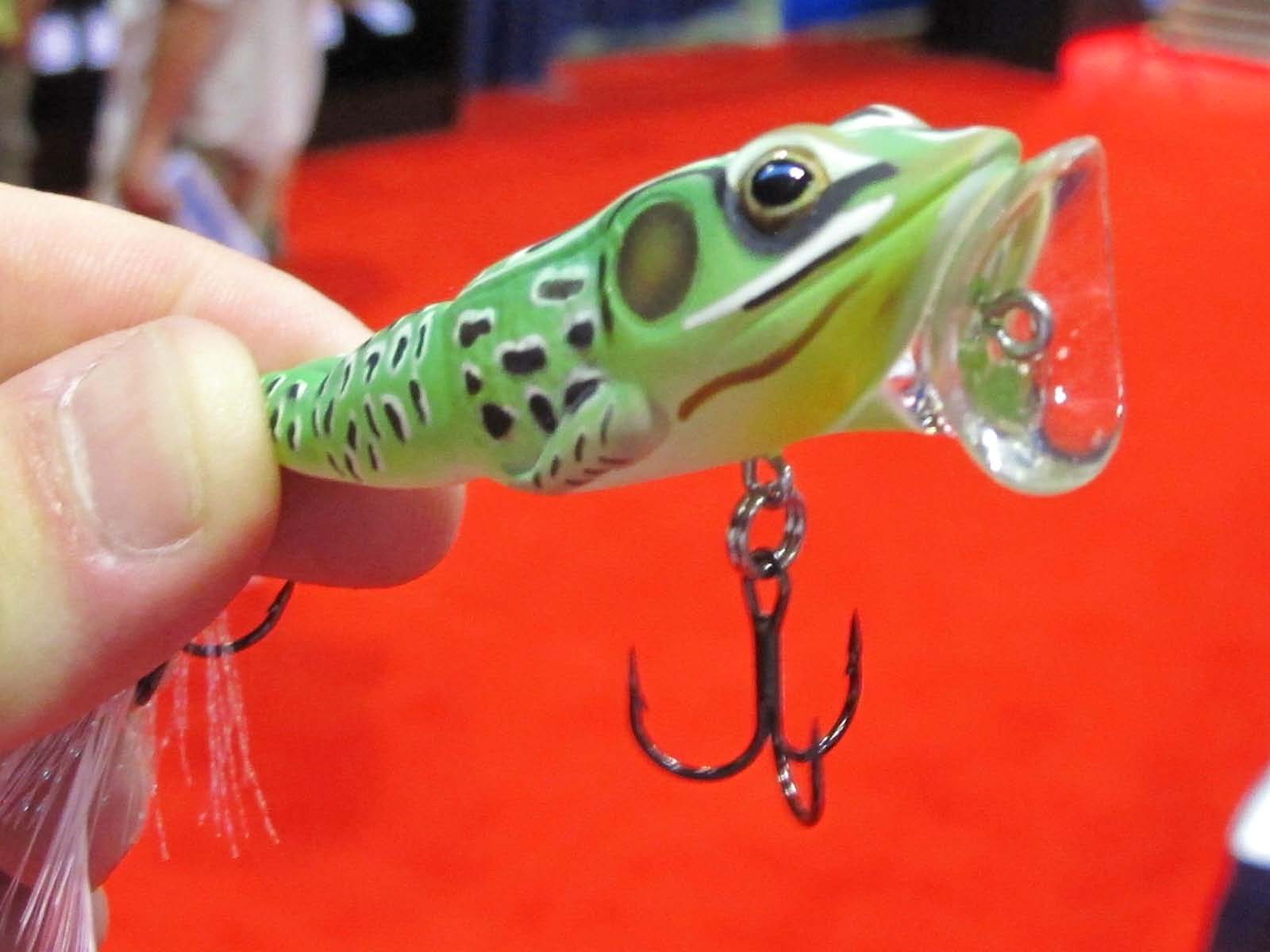 Much more than just an attractive finish, Kopper's hard plastic fleeing frog profile has a built-in clear popper lip and a realistic frog profile and 3D anatomical markings. Available in 2 sizes: 2-1/4″ (1/4 oz) and 3″ (1/2 oz).
More new Koppers products being added here soon! Check back in a few days for the updates.
New! Land-Um Tackle Trapper Hooks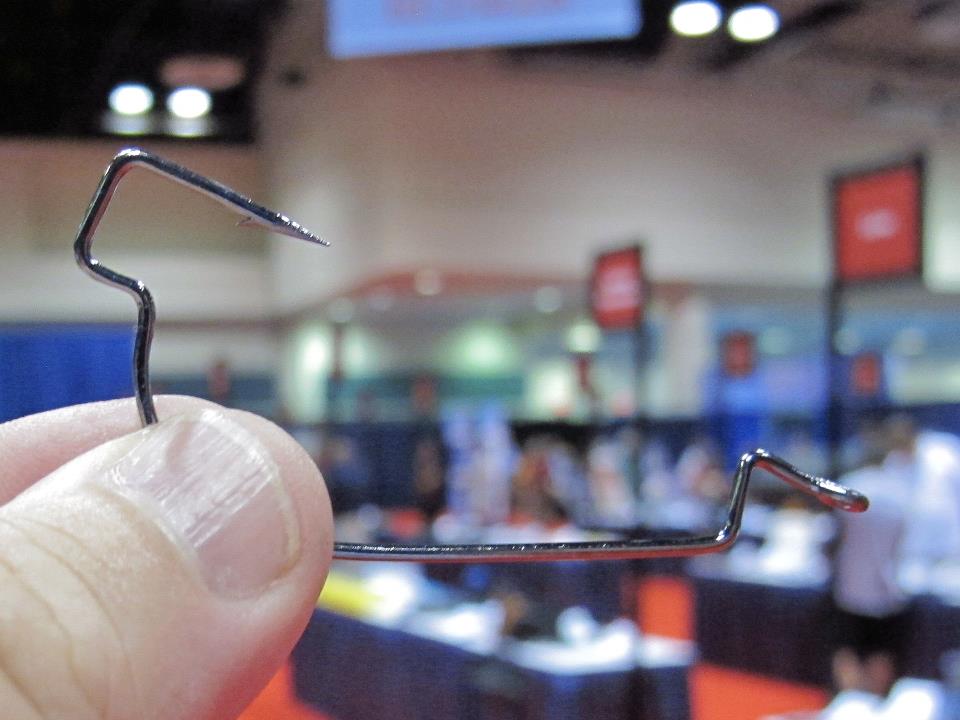 Is this the hot new shape of hooks to come? More news on this product being added here soon! Check back in a few days for the updates.
New! Livingston Lures Scuttle Buzz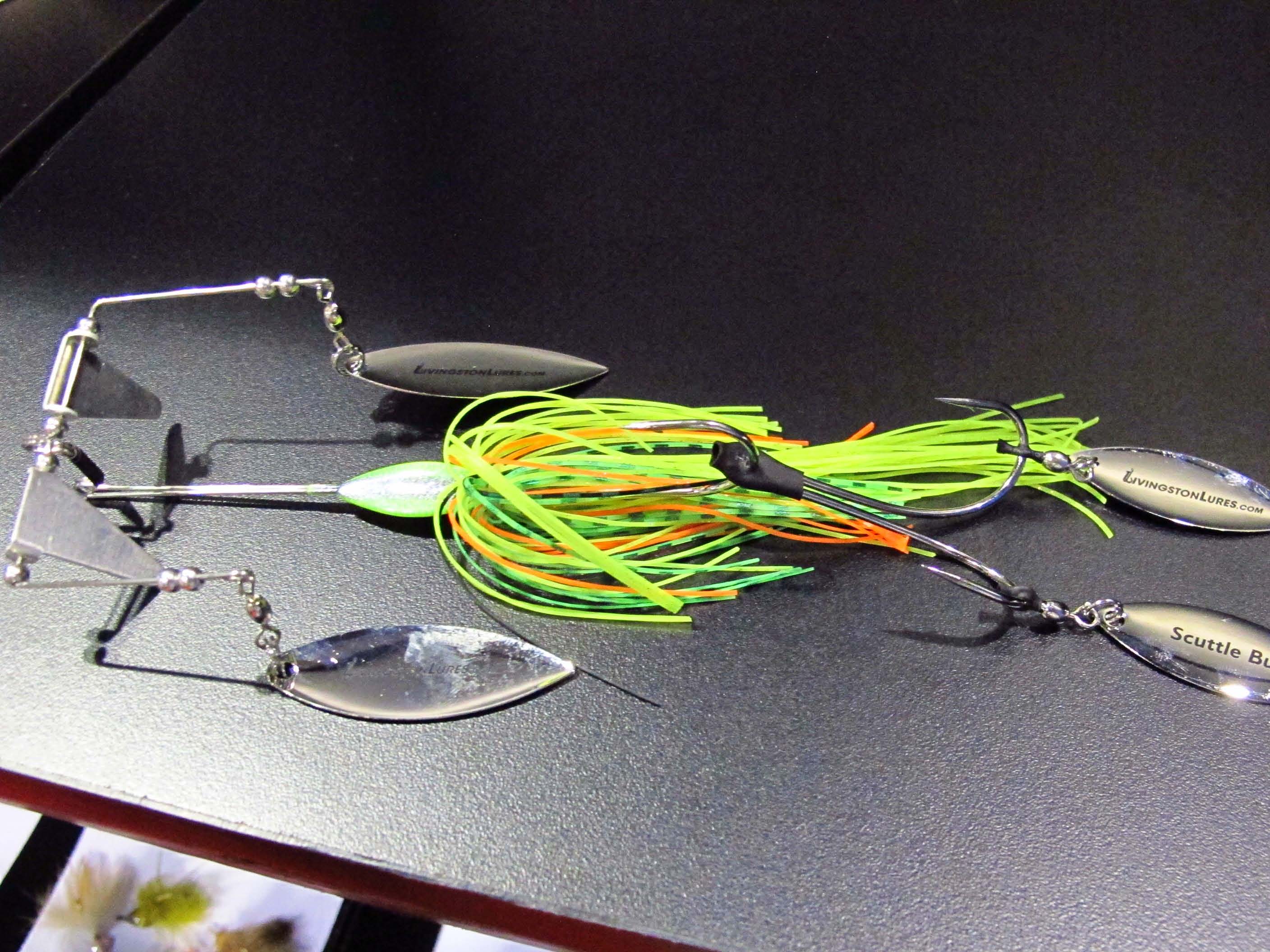 I don't know what to say, but I think the picture speaks for itself.
New! Lucky Craft Gunfish 135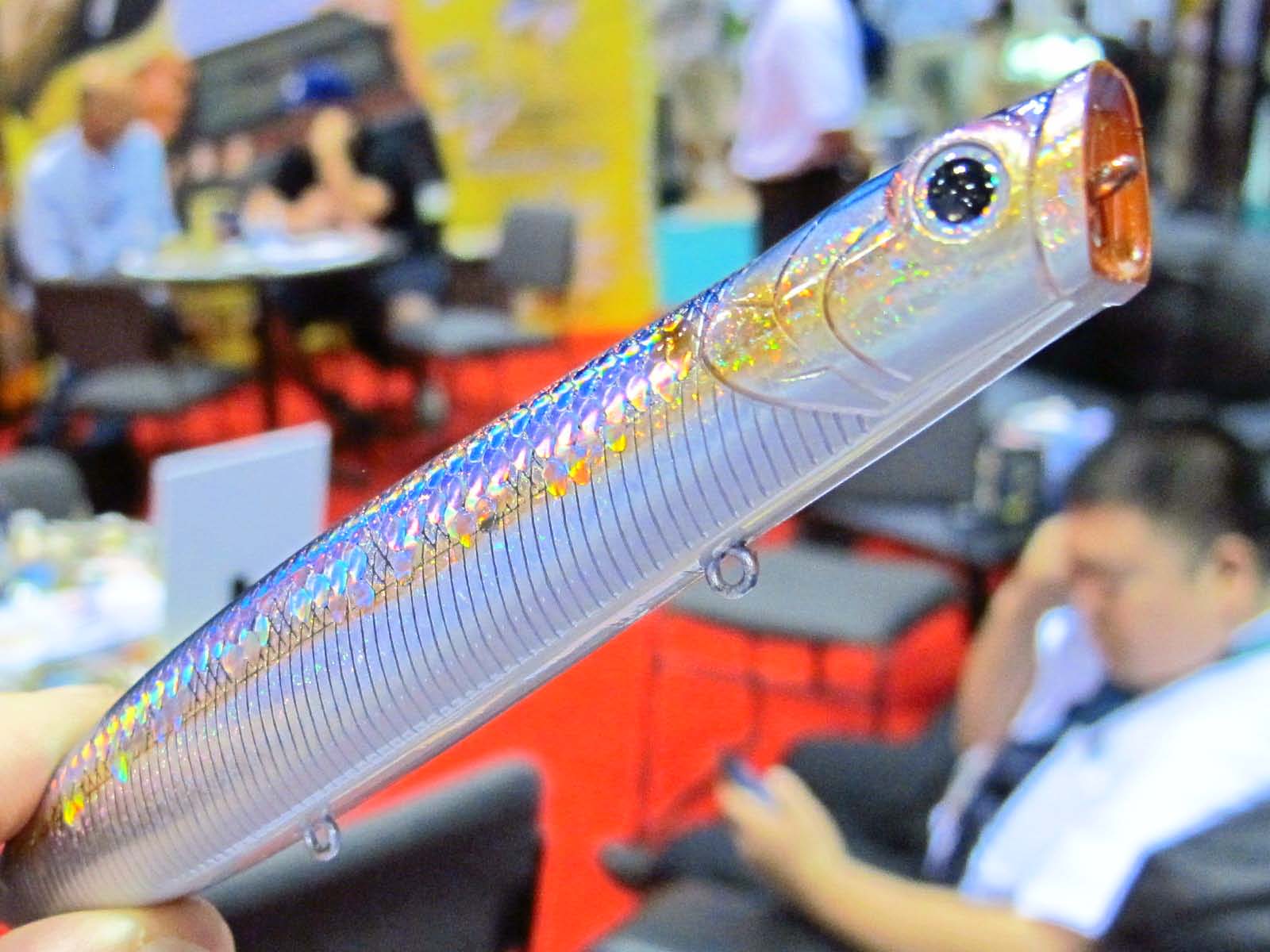 This new, larger topwater seems to be a Gunfish in name only. It looks to be more of a Pencil Popper with its new body shape and uniquely-designed cupped mouth – and it has more of a pencil popper action. Three treble hooks will result in more hook-ups and landed fish. Weighs 1 oz. Casts a mile. Lays flat on the surface. Walks easy with a tight side-to-side action. Loud one-knocker tungsten ball. Bassdozer says, "The consensus is this bait will catch 'em! It may be Lucky Craft's best new offering since a "bass-size" pencil popper really hasn't been available (most pencil poppers are saltwater size) – until now!"
New! Lucky Craft Twisted Rosie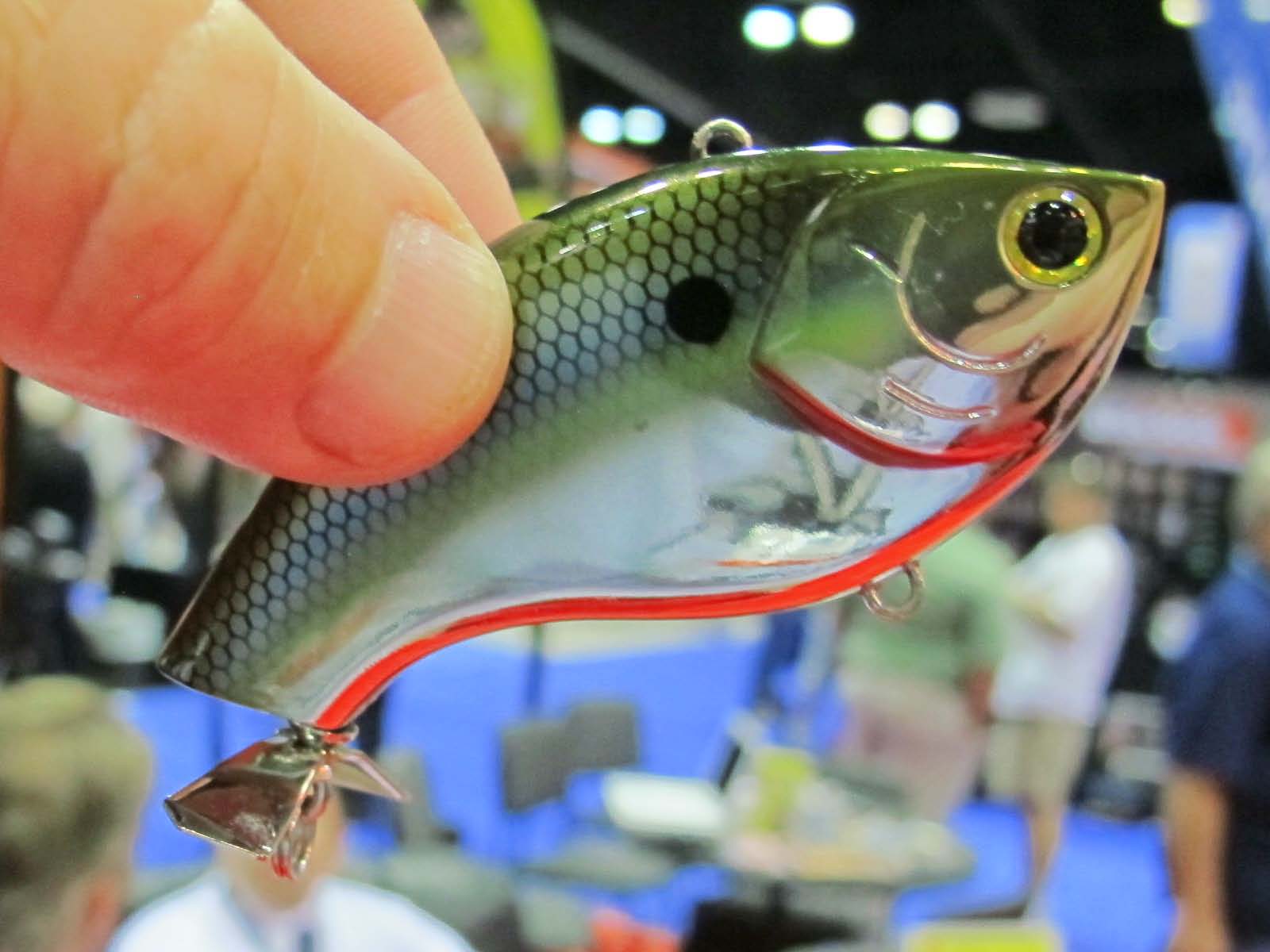 Weighing 1 oz yet extremely buoyant, the new Twisted Rosie combines features of a topwater bait that when twitched struggles like a dying baitfish on the surface. Remindful of a fleeing bluegill that was resting on the surface and then suddenly startled. The bait dives briefly when twitched and then floats back to the surface. The one prop splashes on the twitch further mimicking the sound of a panicked sunfish or baitfish.
New! Lucky Craft Blade Cross 90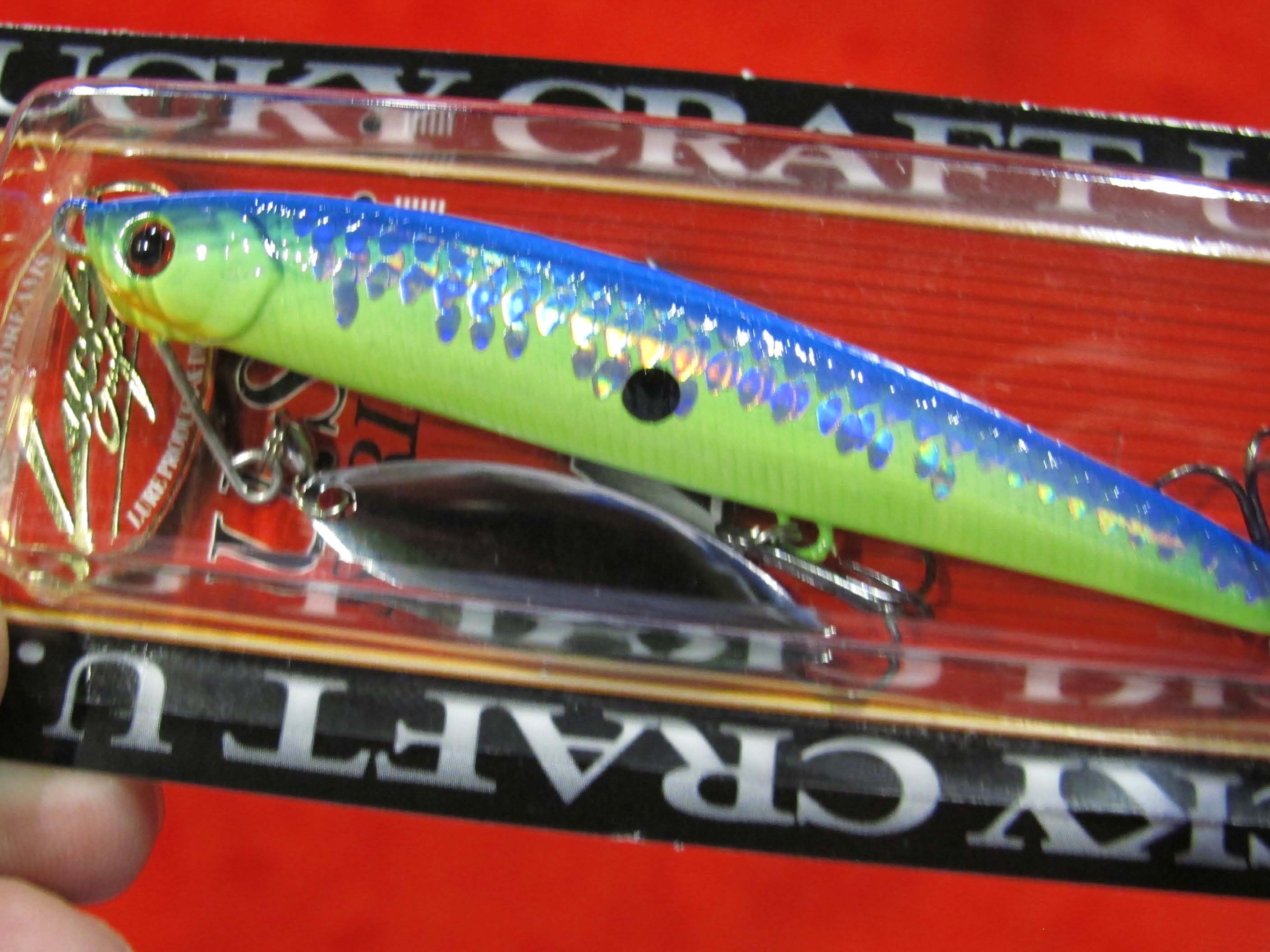 A new slow-sinking, slow-rolling hybrid combination with the flash and vibration of a spinnerbait and the visual appeal of a hardbait. The Blade Cross excels when slow-rolled around structure, says the company. Bassdozer says, "I'm thinking this may work for drifing (with little or no reeling) in a slow current or eddy, in dark, dirty water or at night is my guess." Available in 2 sizes: 90 and 110.
New! Lucky Craft Screw Pointer 95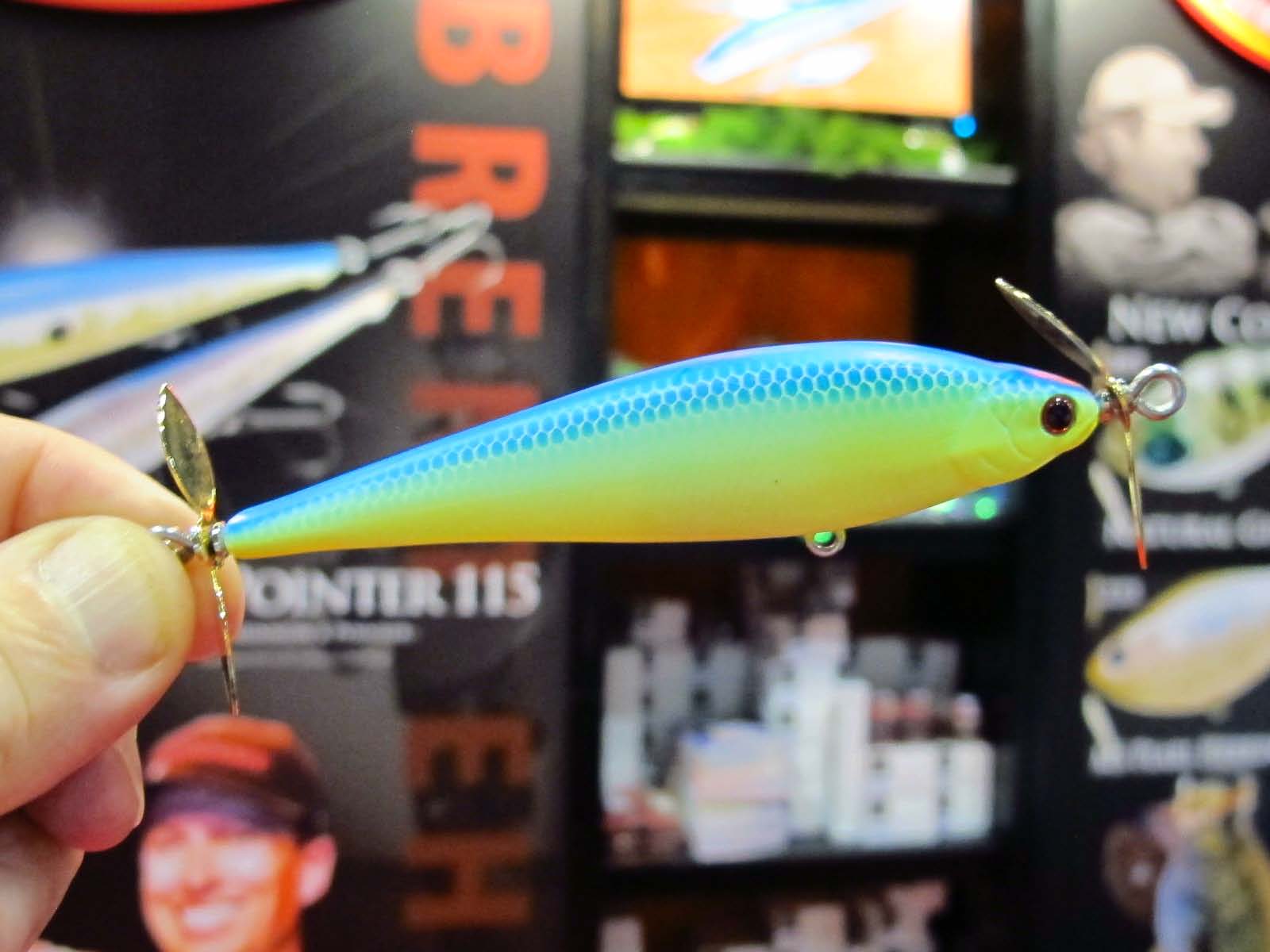 Designed to excel in cold water when jerkbaits normally work, the slow-sinking Screw Pointer incorporates dual blades for added flash and flutter under ater. Weighs 1/2 oz. Depth: 5-8 ft. Bassdozer says, "This underwater prop bait style is unfamiliar to bass anglers, but if people star catching bass on it, who cares as long as it works! Several other Japanese brands are also coming out with subsurface propbaits recently, so expect to see and hear more about these."
New! Lucky Craft Bevy Rig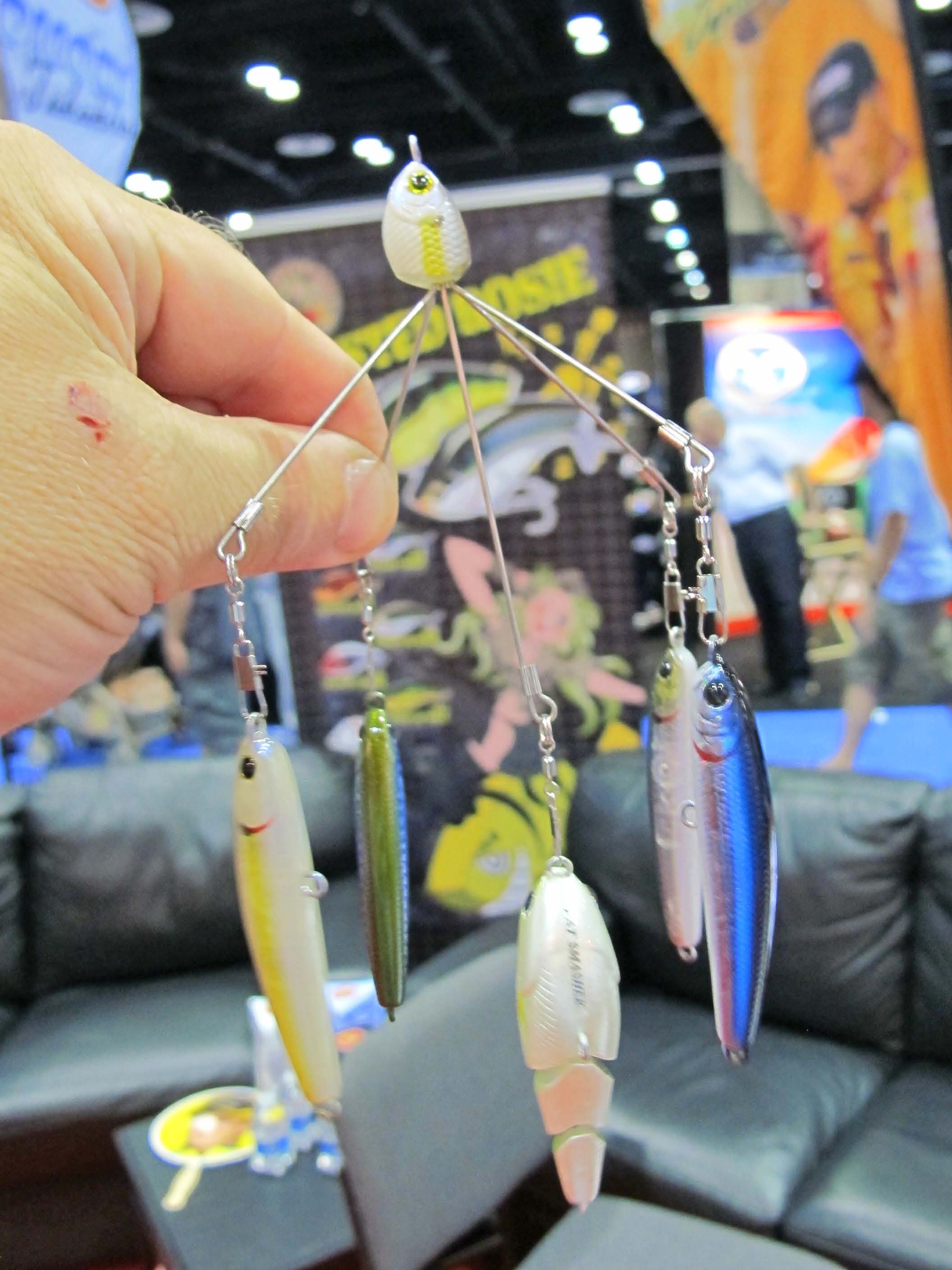 A finesse umbrella rig in 1/4 and 5/16 oz models. (Attached hard baits not included with the rig.)
Lunker Hunter Bento Baits
*WINNER OF ICAST BEST SOFT LURE AWARD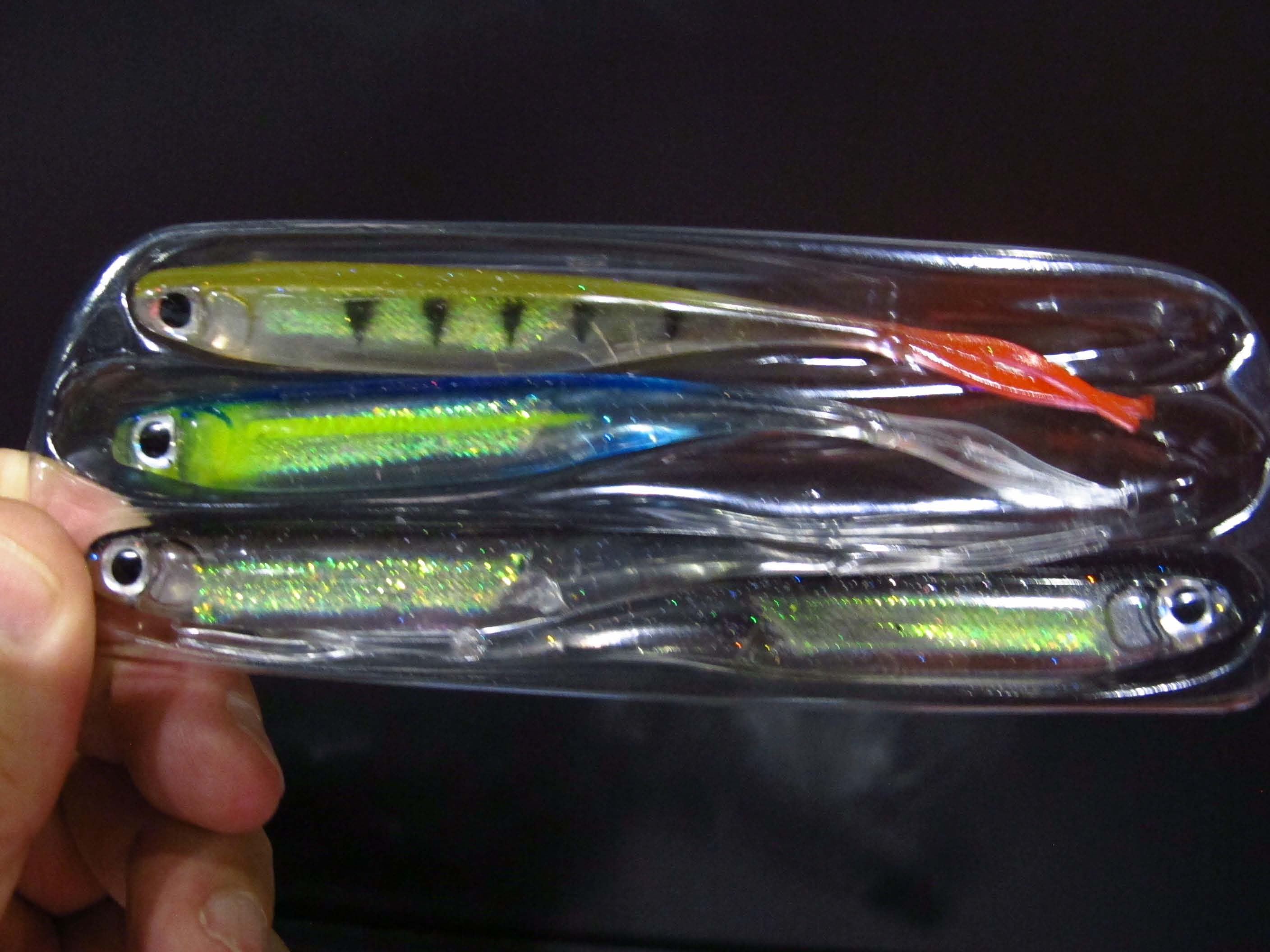 The Bento features a lively tapered split tail, holographic core, and biologically correct detailing so that all these elements are incorporated into a soft yet durable body construction that enables the Bento to come to life with the slightest movement, making it one of the most realistic baitfish imitations on the market, says the company. Available in two sizes: 3″ and 4-1/2″.
More new Lunker Hunt products being added here soon! Check back in a few days for the updates.
New! MegaStrike 3″ Swimbait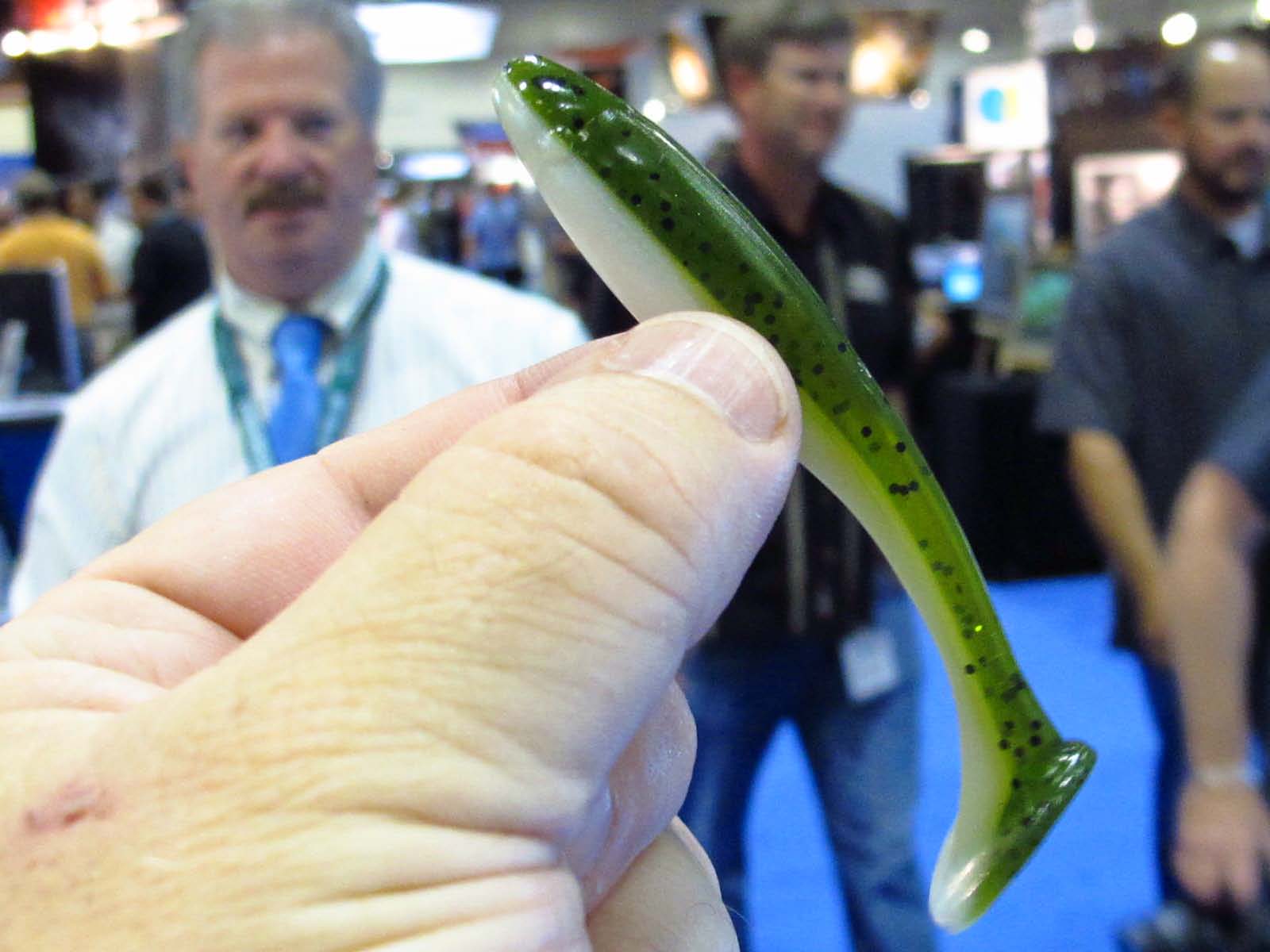 MegaStrike released their new 3″ swimbait – and many other soft bait vendors also released smaller size swimbaits at ICAST for 2013. In the test tank demonstrations, the MegaStrike 3″ Swimbait had multiple actions not only from the tail but great body action too. It appears correct in every body proportion. Should accommodate any type jig head (some swimbaits are not roomy enough in the head section to do that), and also excels on a shank-weighted hook. Even weightless on a hook, it will swim correctly and will not roll or spin, even on a fast retrieve. Actually, the action gets even better when swam faster! This one looks like a new winner in every way. MegaStrike appears to have nailed it – and I say that even in comparison to many other new, small swimbaits soon to hut the market.
New! Mustad KVD Tools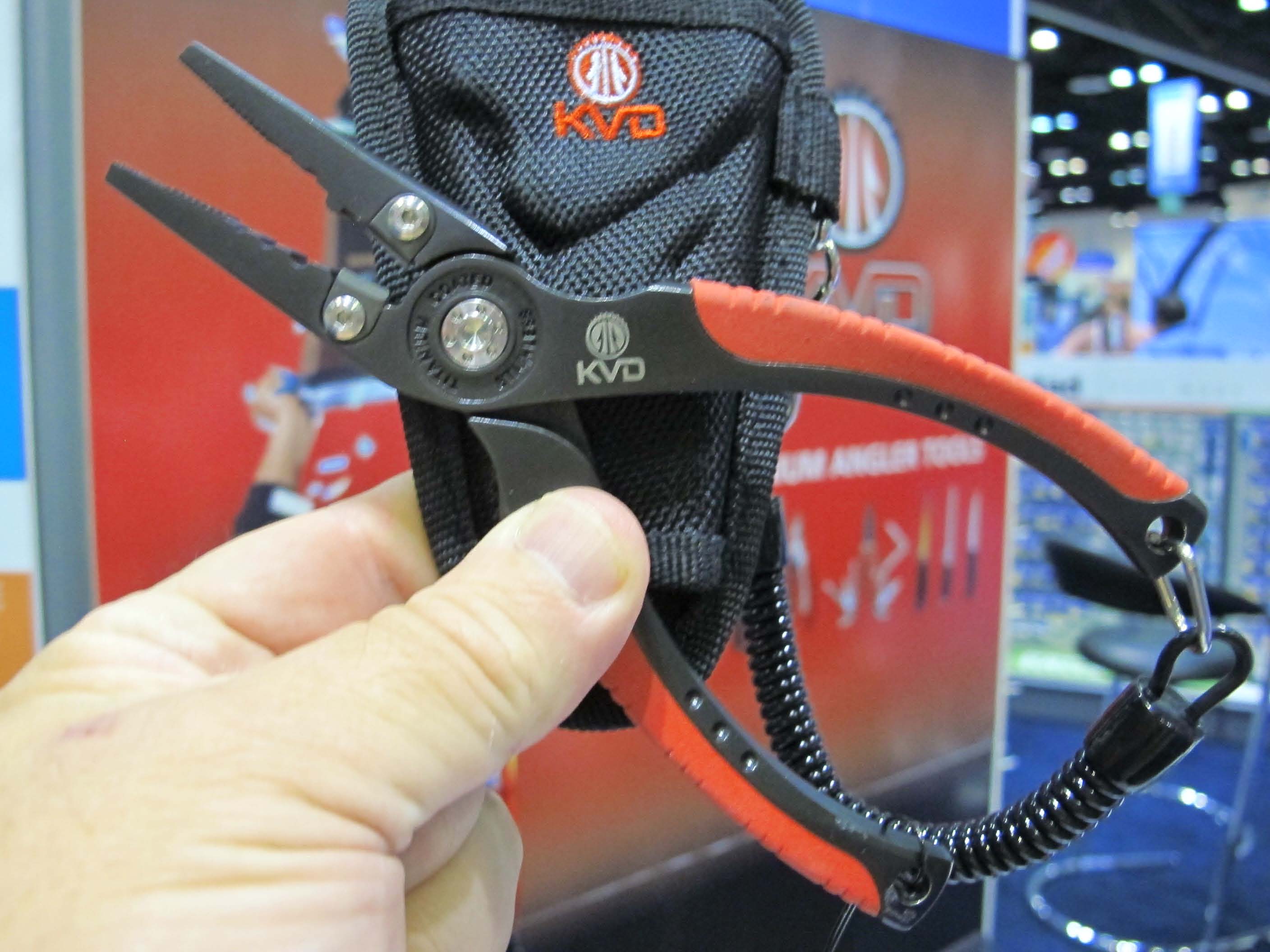 Kevin VanDam told me to check out these new KVD tools at the Mustad booth – and they do look good!
New! Optimum Baits "AA" 30th Anniversary Special Swimbait
To commemorate the original AA Worms' 30th year hand-pouring the finest soft swimbaits, Optimum proudly introduces the AA 30th Anniversary Special Swimbait – a fusion of hand-poured excellence and high-tech modeling including computer-generated fine-scaling and soft yet durable material texture. The material is very lively and generates great flexure and action, even with lighter jid heads. I was really impresses to see and feel the texture, suppleness yet resilience (durability) of this bait. Quite possibly AA Worm's crowning achievement!
New! River2Sea Biggie Smalls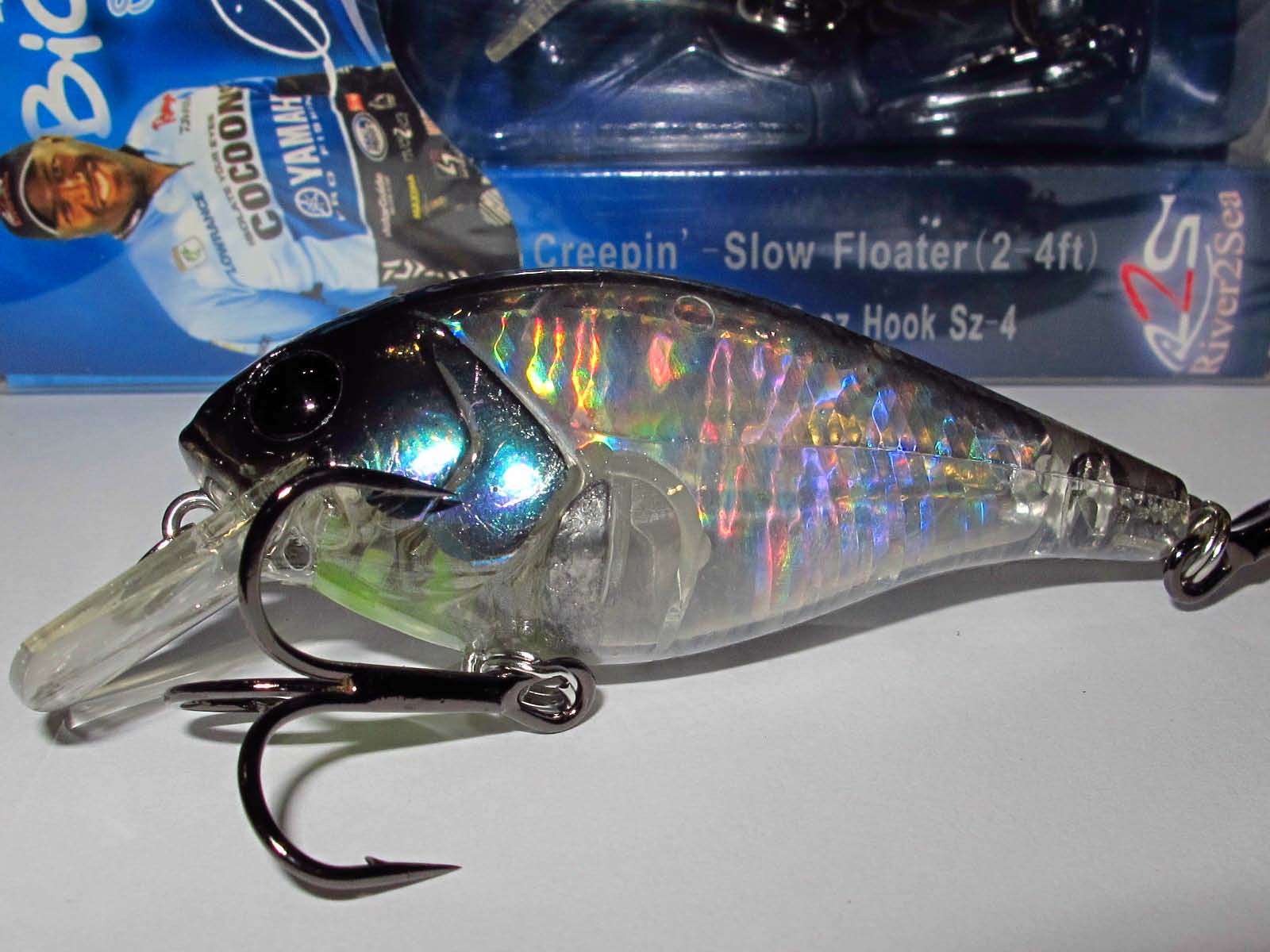 Ish Monroe's new signature squarebill crankbait
More new River2Sea products being added here soon! Check back in a few days for the updates.
New! Strike King KVD Slash Bait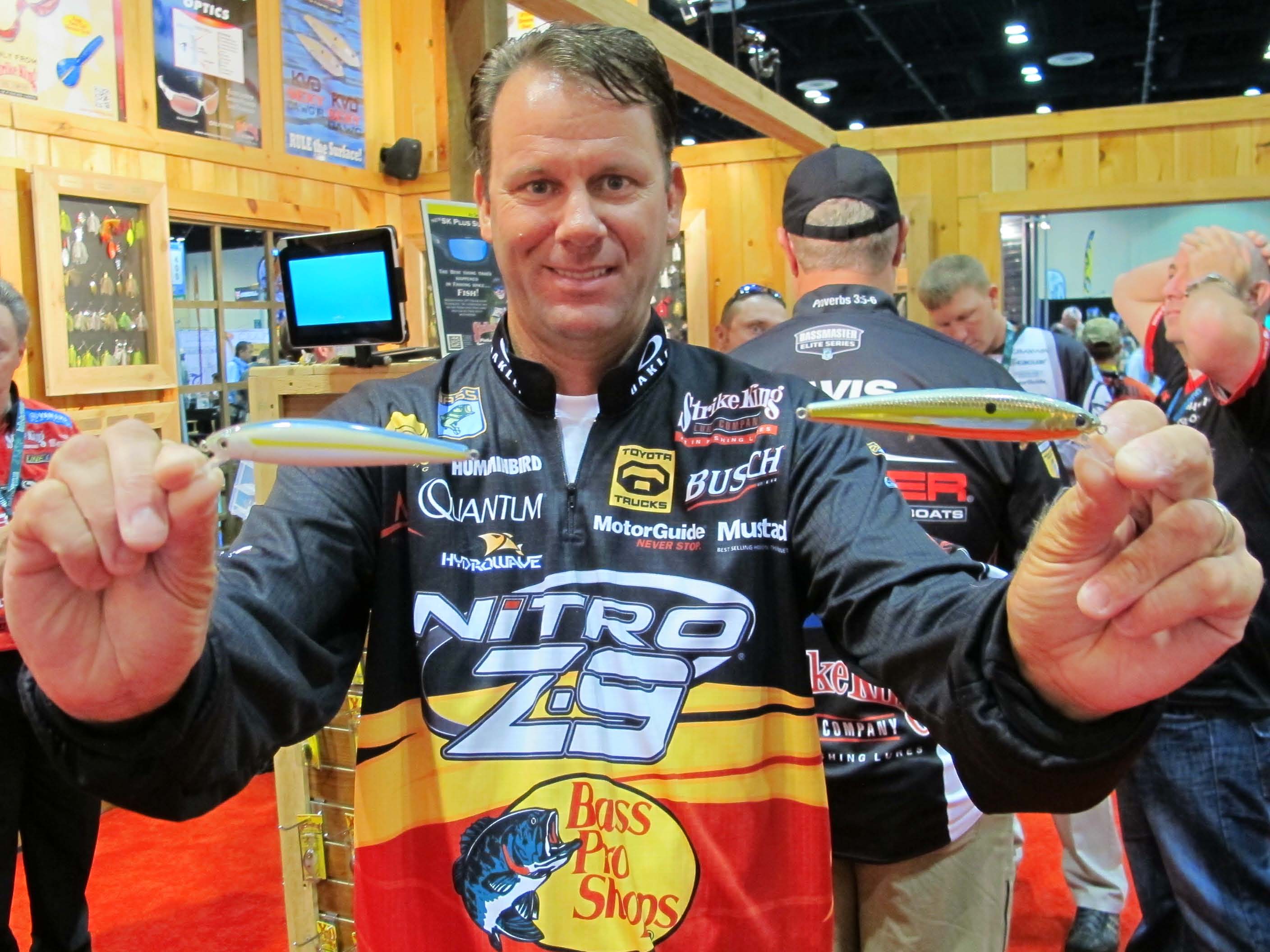 KVD briefed me on many new products for 2013 from the different brands that sponsor him, but the one KVD sounded most emphatic over was the new Strike King KVD Slash Bait he's holding here. Kevin says it was 3 years in the making. If there's one color KVD says anglers ought to try, of course it's Sexy Shad since there are shad everywhere, he says.
New! Strike Pro Shifty Shad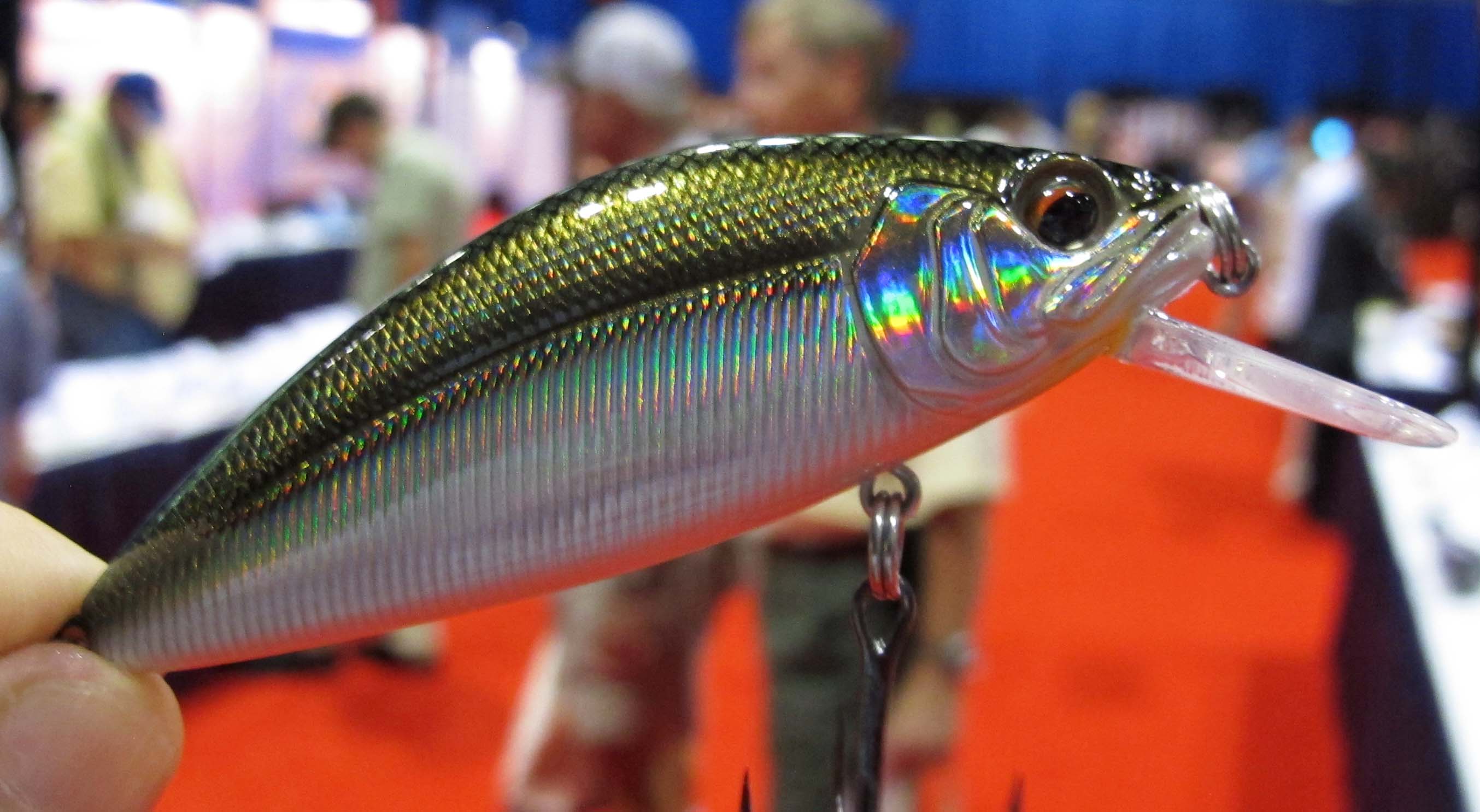 The new Shifty Shad has an aggressive action and a deep resonating knock. It runs 2′ deep and you can burn it over grassbeds, potholes or rock beds. When you stop it, it will suspend – a valuable asset to coax hidden fish out of shallow cover with tempting twitches and jerks like a struggling shad.
New! TH Marine G Force Handle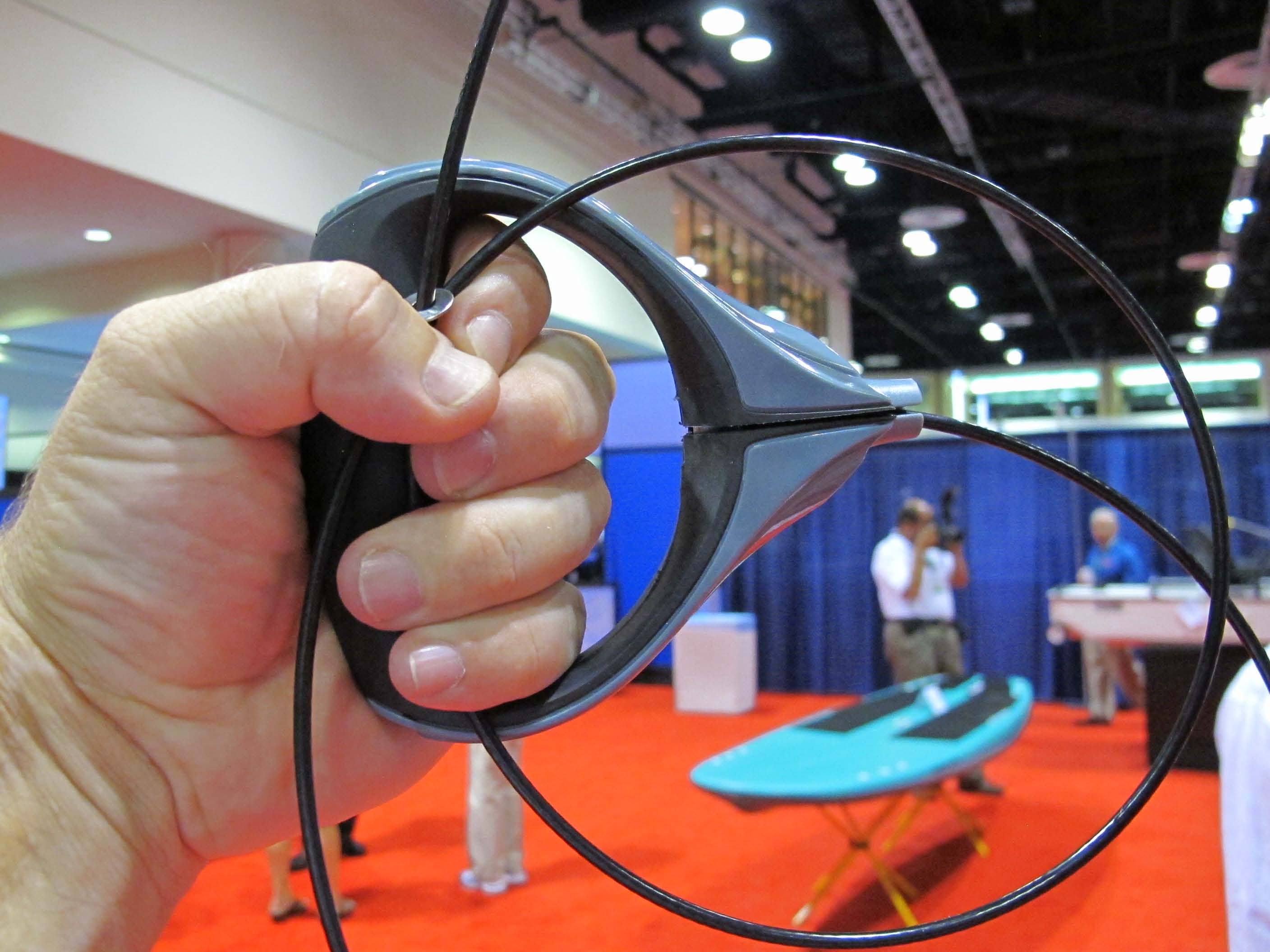 Revolutionary replacement handle and cable for most trolling motors has full grip cushion handle and stainless steel aircraft cable cord. Nylon jacketed for abrasion-resistance.
New! Tightlines UV Fresh/Saltwater Swimbaits and Rat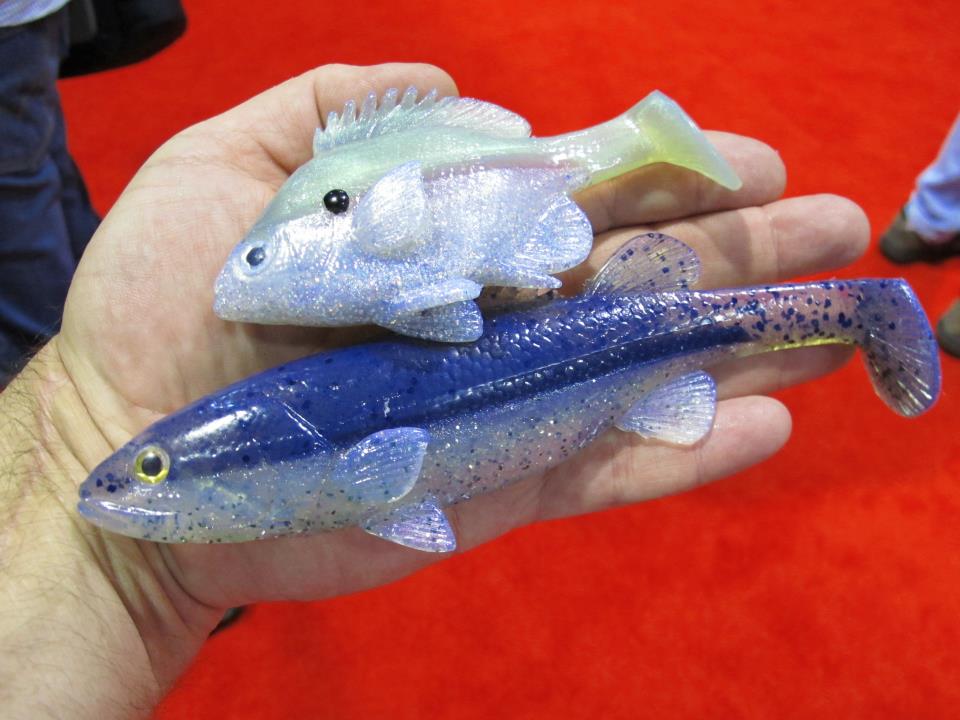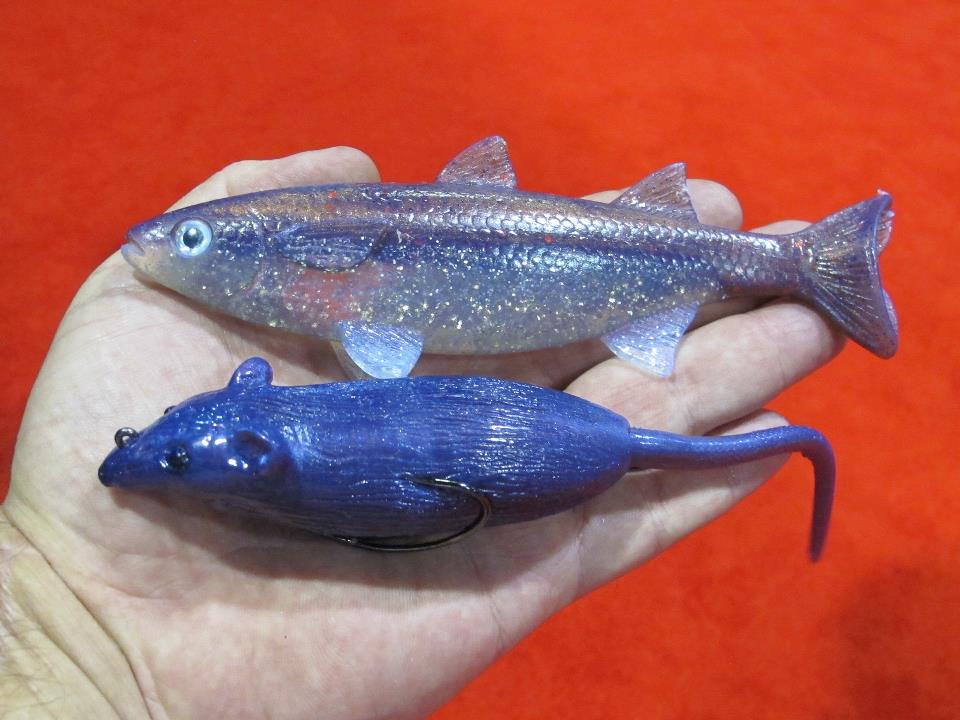 Tightlines UV introduced 4 new shapes of fresh and saltwater swimbaits and one big rat, all with ultraviolet light reflective material.
That's all on ICAST until next year, folks!